Claim:
A physical book detailing the contents of Hunter Biden's abandoned laptop is being sold for $50.
In July 2023, viral posts on social media began highlighting the fact that a "physical 'report' on [the contents of] Hunter Biden's laptop is being sold for $50."
A physical "report" on Hunter Biden's laptop is being sold for $50. This is our life now. As long as Hunter Biden is a factor, these people won't have any substantive policy improvements or intellectual debates for the next 18 months. pic.twitter.com/LGm5mzr8d5

— Fifty Shades of Whey (@davenewworld_2) July 10, 2023
This claim is true. On June 1, 2023, a group founded and led by former President Donald Trump White House aide Garrett Ziegler — who also goes by "Marco Polo" — uploaded the entire contents of a laptop owned and abandoned by U.S. President Joe Biden's son Hunter at a Delaware computer repair shop in October 2019. 
Former Trump personal attorney Rudy Giuliani, among others, had received a copy of the laptop's contents — including photos, emails, Venmo transactions, and other details — which have continually been published by various outlets in an effort to tie President Biden to corruption. Ziegler has stated he received a full copy from Giuliani sometime after the 2020 election. He explained the group's motivations in an interview with National Review: 
Ziegler stated that it took his team months to review and redact the photos, which span from 2008 to 2019. He emphasized that the aim of the website is to provide truth and transparency, allowing the American people to see what their first family is like, without excluding photos that may portray the Bidens in a negative light.

"We're not Republican activists. None of us are registered Republicans," Ziegler told Fox News. "In fact, I loved and still love Trump precisely because he wasn't a standard Republican. So this is not a hit job. We're going to keep all the photos that paint the Bidens in a good light and keep all the photos that paint the Bidens in a bad light. The American people can judge for themselves what they think about their first family through this."
While the contents are free to view on the above-mentioned website, the organization has indeed created a physical copy of the laptop's contents in book form. The book, "Report on the Biden Laptop," could be yours for a $50 donation: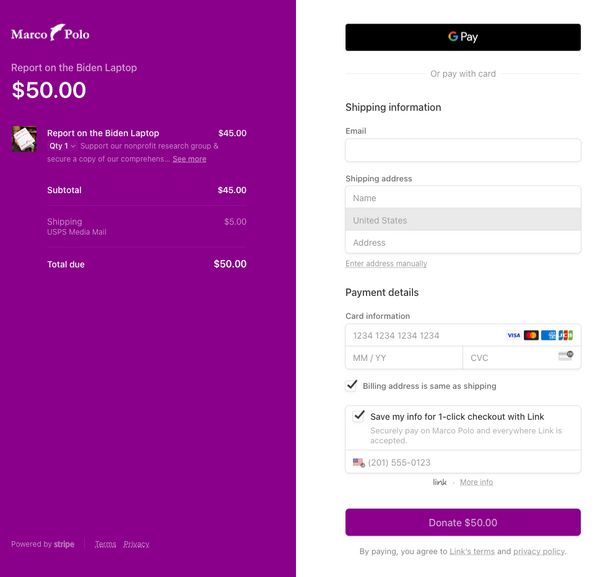 If you would like to pay even more for a "first edition" of the book, apparently signed by Ziegler himself on eBay, you'd have to part with $700, based on an eBay listing active at the time of this reporting.  
Because such a book exists and costs $50 (shipping included), we rate the claim as "True."