Claim:
In August 2023, Fox News reported in a newscast, "They let [Hurricane Hilary] right into the country because it's Biden's America."
On Aug. 21, 2023, claims that "Fox News blamed Biden for Hurricane Hilary" began to go viral on social media: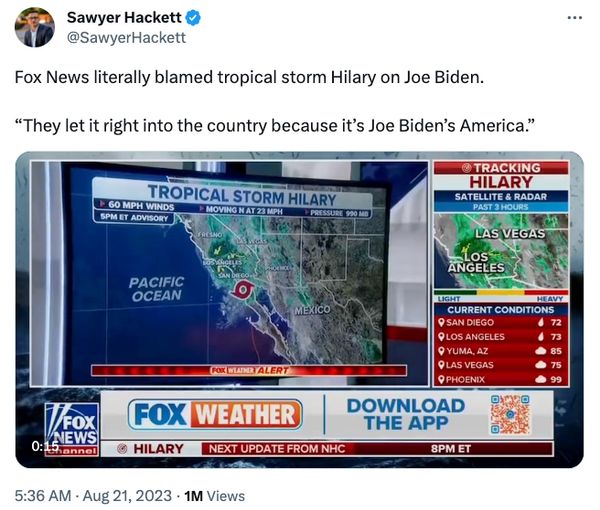 The assertion originated the day before from the opening segment of the Fox News program, "The Big Weekend Segment." The show, "a rotation of network hosts and contributors discussing the news of the day," opened with this teaser by Fox News host Kennedy:
The wrath of tropical storm Hilary: 42 million desperate souls in the path of the storm, which made landfall in Mexico several hours ago, but they let it right into the country because it's Biden's America. 

The impact — far from over: The first tropical storm to hit California since 1939 — when Joe Biden started his senate career — forecasters warned there could be catastrophic and life-threatening flooding. 
The outlet MeidasTouch clipped this segment and published a small write-up of the video with the headline "Fox News Blames Biden for Letting Hurricane 'Into the Country.'" MeidasTouch conceded that the statement was likely an "awful joke." This conclusion is supported by the apparent dig at Biden's age, who did not, in fact, begin his Senate career in 1939, which would be three years before his actual birth. 
However, the clip is genuine, as evidenced by its inclusion in Archive.org's TV News Archive. As such, the quote was correctly attributed to Fox News.