Claim:
An email message from an address that does not end in @harborfreight.com says you have won a free product from Harbor Freight Tools.
In October 2023, scammers were months into their efforts to rip off internet users by impersonating the hardware store chain Harbor Freight Tools in emails and on websites. The fake "free" offers presented by scammers in a variety of different emails included a "170-Piece Stanley Tool Set," "Milwaukee Power Drill," "DeWalt Power Station," and other products.
To be clear, other "confirmation" email scams with very similar layouts had also been shared in past years exploiting the names of other brands, including Walmart, Target, Kohl's, Lowe's, Home Depot and others.
The links in all of the emails that mentioned Harbor Freight Tools led to websites that began with a survey and ended with a hidden subscription scam. The survey appeared to be fake, meaning that no one was going back and checking users' answers to compile any data.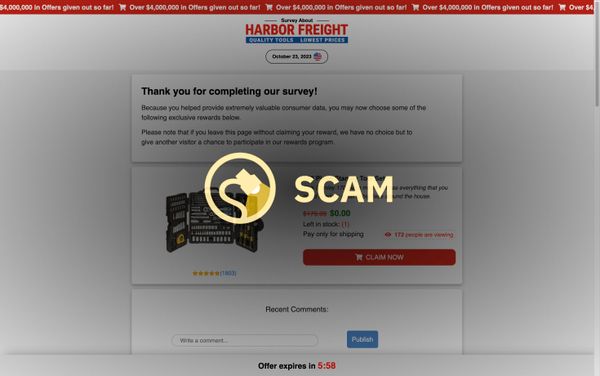 This was not the official website for Harbor Freight Tools.
For example, in the case of the fake "free" offer for a "170-Piece Stanley Tool Set," the scam led users to the website greatest-eletronic-choice.com. This website was designed to fool users into believing they were looking at the official Stanley website, stanleytools.com.
The "I agree" box for the terms and conditions was pre-checked.
The fine print for the scam tool set offer showed that the whole ruse was apparently an offer to pay to enter a giveaway. That giveaway offer included pricey monthly fees that weren't mentioned in the scam email or anywhere else:
Congratulations on being permitted to enter the giveaway! We will select one customer out of every 1000 entries to win! By entering, you agree to pay, $7.95 USD the day you place your order for a guaranteed placement in the contest to win. If you do not win, you will be billed after 3 days to enter the main contest to win and 1 contestant will be chosen out of the 100 to win. There forth, every 30 days, you will be entered to win for the price of $79.95 monthly for $69.95 USD conveniently from your billing source to enter the sweepstakes and INCREASING your chance to win by 50%! (ie: 1 out of 50, 1 out of 25 etc) You can cancel your membership anytime by calling or emailing in if you do not feel that this product is right for you and we will stop all monthly charges of your payment method . You may cancel at any time or call/email to get a refund at any time.

As an additional welcome bonus we will be sending you a $150 gift card to the best consumers gadget club on the web! By being a member you will receive it every month with access to direct-from-factory savings on hundreds of products!
For any readers who are looking for contact information after being scammed, the phone number listed on the website was listed as (855) 201-4502. The email address was support@greatest-eletronic-choice.com.
Harbor Freight Tools previously posted a statement regarding these scams, saying in part, "These emails are NOT from Harbor Freight and the criminals who send them did NOT get your email address from us."
A note about email scams. Learn more here: https://t.co/ytwcUz9iln pic.twitter.com/q7AOoRPRS5

— Harbor Freight (@HarborFreight) June 15, 2023
For more information about the dangers of hidden subscription scams, we recommend our past report, "This Cash App Email Scam About a Fake Deposit Could Cost You Thousands on Your Credit Card."