Claim:
In a weekly email newsletter to his constituents, Rep. Paul Goser, R-Ariz., promoted a Holocaust-denying website that has published pieces sympathetic to Adolf Hitler.
On April 17, Media Matters and other outlets reported that U.S. Rep. Paul Gosar, R-Ariz., promoted a "pro-Hitler and Holocaust-denying site." These stories reference a link in the representative's April 16 "This Week With Gosar" newsletter to an article titled "Congressman: Jewish warmongers Nuland & Blinken 'Are Dangerous Fools Who Can Get Us All Killed'" on the website Veterans Today. Factually, Gosar did link to this article (though the word "Jewish" is omitted from its title in Gosar's newsletter):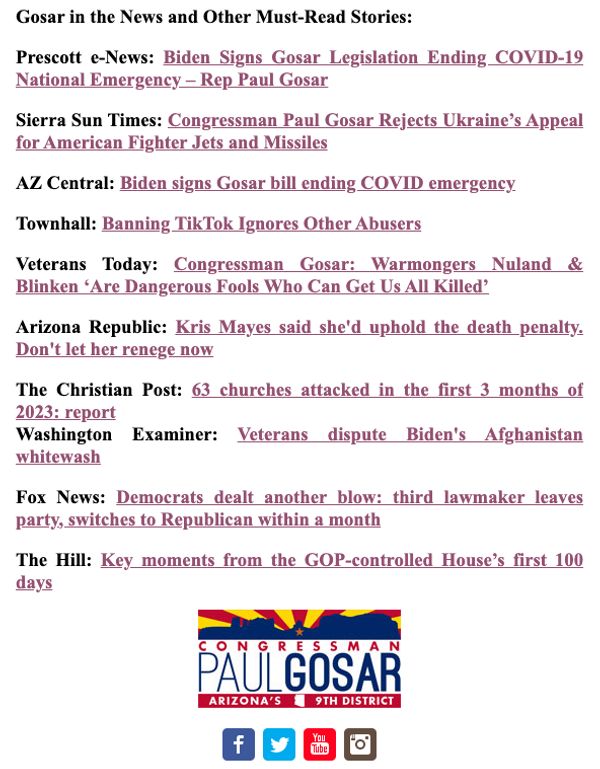 (This Week with Gosar)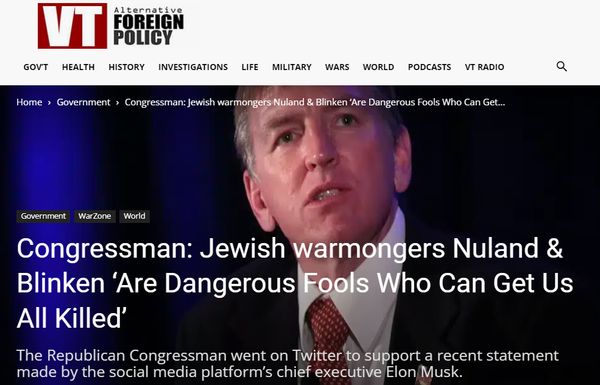 (Veterans Today)
Veterans Today frequently republishes content from Russian state media. The piece Gosar's newsletter linked to is no exception to that editorial strategy. The original article, which first appeared on Kremlin-backed Sputnik, and did not reference "Jewish warmongers," promoted Gosar's comments on Twitter:
United States Secretary of State Antony Blinken and US State Department official Victoria Nuland "are dangerous fools who can get us all killed," warns Paul Gosar, a Republican Representative of Arizona's 9th Congressional district, in a reference to the two officials' warmongering stance on the Ukraine conflict. 
Though it has a disclaimer that reads "expressed opinions are NOT necessarily the views" of Veterans Today, the site is fairly described as a website that has a history of publishing antisemitic, pro-Nazi, and Holocaust denying material. The website has described Ukrainians as "Goyim Slaves of Zionist Extremism," published several defenses of Adolf Hitler, and argued that "Jewish Zionists" — not Nazis — are responsible for the Holocaust. 
Snopes reached out to Gosar's office to ask if he was aware of the article's Russian origins or of the antisemitic and pro-Nazi content on Veterans Today. By email, Gosar's office provided Snopes a statement that addressed neither question:
Congressman Gosar never made any comment relating to Secretary Blinken's or Nuland's faith, which can be blatantly seen in the article.  Any attempt to assert that he did is libelous. 

Congressman Gosar is well known as one of the top advocates of the State of Israel and a defender of those of the Jewish faith across the world and has regularly been asked to speak to Jewish advocacy groups like the International Raoul Wallenberg Foundation.  
Because archived links capture Gosar's promotion of Veterans Today, and because that website publishes Holocaust-denying and pro-Nazi material, the claim is "True."