Claim:
Country music star Garth Brooks was booed off the stage at the 123rd Annual Texas County Jamboree.
In late June 2023, a number of social media accounts and websites claimed that country music star Garth Brooks had been booed off the stage at an event described as "the 123rd annual Texas Country Jamboree." These examples are from Facebook and Twitter: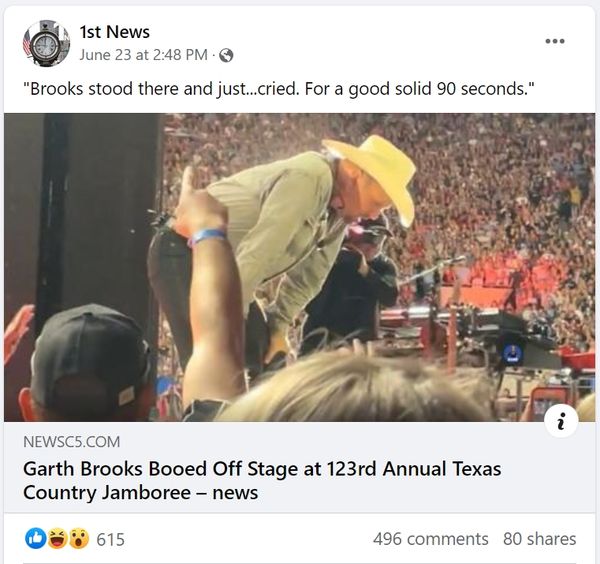 (1st News/Facebook)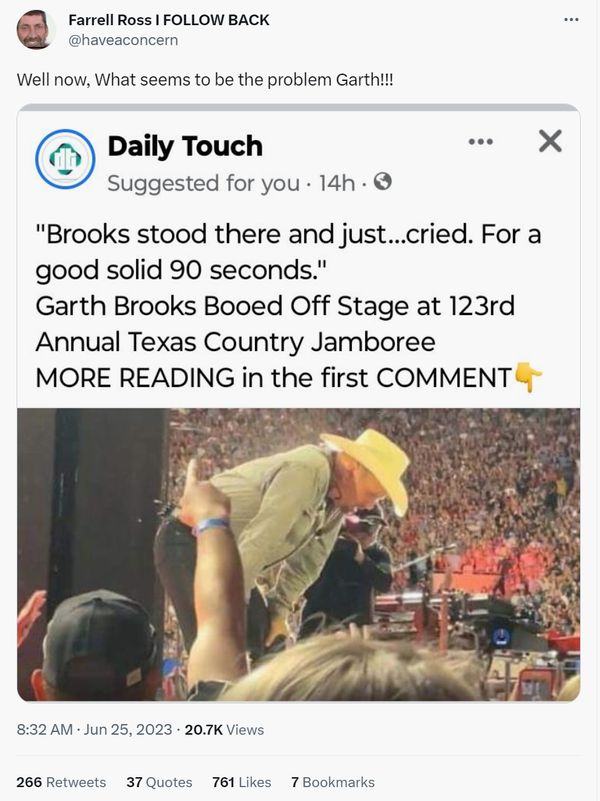 (@haveaconcern/Twitter) 
The claim is false. It originated as an article on a website, Dunning-Kruger Times, which describes its content as fictional and satirical in nature: 
sat·ire ˈsaˌtī(ə)r noun: The use of humor, irony, exaggeration, OR ridicule to expose and criticize people's stupidity or vices, particularly in the context of contemporary politics and other topical issues. 

Everything on this website is fiction. It is not a lie and it is not fake news because it is not real. If you believe that it is real, you should have your head examined. Any similarities between this site's pure fantasy and actual people, places, and events are purely coincidental and all images should be considered altered and satirical. 
The beginning of the article read as follows: 
When Garth Brooks took the stage at the 123rd Annual Texas Country Jamboree in Hambriston, the famous farm of the Barron Cattle Empire, he didn't expect to leave in shame under two minutes later.

"For 22 years, Garth Brooks has been the headliner of this event," said a sad Toby Keith after Brooks was booed offstage, "but we really can't keep pretending he's not playing for the other side."
We found no evidence that Brooks had recently performed at a "Texas Country Jamboree in Hambriston" — or even that a "Texas Country Jamboree" or a city called Hambriston, Texas even exist. The week the Dunning-Kruger Times article was published, Brooks was performing at Caesar's Palace in Las Vegas. 
We previously fact-checked a similar satirical claim that originated with the same source, namely that the grand opening of Brooks' bar had to be canceled due to his refusal to participate in a boycott of Bud Light by conservatives over a marketing promotion that featured a transgender celebrity.
For background, here is why we sometimes write about satire/humor.