Claim:
To receive assisted suicide in Germany, you must first be fully vaccinated against Covid-19.
Context
Germany's government has never mandated such a regulation for assisted suicide, but a nongovernmental assisted suicide organization in Germany — Verein Sterbehillfe — did mandate, in November 2021, that access to their facility be limited to those who received a COVID-19 vaccination or had recently recovered from the disease.
On Aug 22, 2023, a photo of a November 2021 headline from the National Review went viral on X, the social media platform formerly known as Twitter. The headline asserted that "In Germany, you must be fully vaxxed before your death by assisted suicide."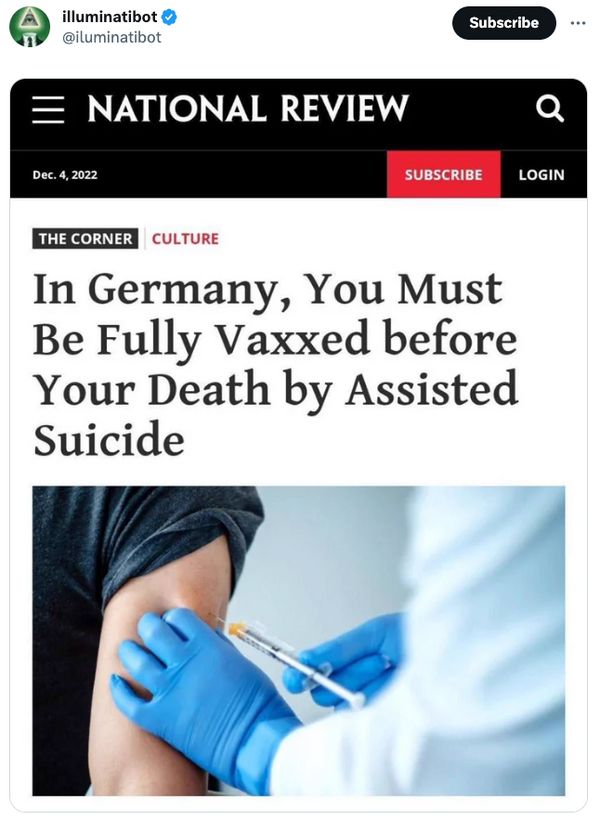 The headline was never accurate, and the underlying story, at the time tweet went viral in August 2023, was out of date. 
In late November 2021, at the height of the COVID-19 pandemic, a German euthanasia association, Verein Sterbehillfe, issued a news release mandating compliance with so-called 2G regulations. As described by the BBC, "2G stands for genesen (recovered in the past six months) or geimpft (vaccinated)." Many predominantly right-wing publications highlighted this press release as an example of Covid-19 regulations gone too far. The Spectator, for example, wrote on Nov. 28, 2021, that:
Irony has been declared many times in this pandemic but now, from Covid-riddled Germany comes the final proof: you can't kill yourself now unless you've been vaccinated. As European countries battle to limit the spread of the virus, Verein Sterbehilfe – the German Euthanasia Association – has issued a new directive, declaring it will now only help those who have been vaccinated or recovered from the disease.
Several important pieces of context are missing from both the headline claim that Germany mandated this compliance and also the notion that this organization mandated these health regulations for the safety of the person ending their life. Neither implication is true.
Verein Sterbehilfe is not a German governmental agency — it is, instead, a not-for-profit membership-based club that offers assistance and planning for people and their loved ones looking to exercise their right to self-determination in their death: i.e., to end their life instead of progressing through a painful or incurable illness. 
It was on behalf of the later population that the COVID policies were mandated, per Sterbehilfe's news release:
Euthanasia and the preparatory examination of the personal responsibility of our members willing to die require human closeness. But human closeness is a prerequisite and breeding ground for the transmission of the coronavirus. As of today, the 2G rule applies in our club, supplemented by situation-related measures, such as quick tests before encounters in closed rooms. 
Snopes reached out to Verin Sterbehilfe to ask if any COVID-19 restrictions remained in place at the organization at the time of this reporting, but we did not receive a response. 
Because Germany made no such regulation regarding assisted suicide, because Verin Sterbehilfe is a nongovernmental organization, and because the story at issue was multiple years out of date, the assertion was False.