Claim:
A photograph authentically shows Elon Musk as a child seated on the sofa with his mother, Maye Musk, while their Black maid sat on the floor next to them.
Context
The photograph depicts an unnamed mother, daughter, and maid in Johannesburg, South Africa, during apartheid. It was taken around 1988-1990 and is stored in the Harvard Art Museums collection.
A viral photograph purports to show billionaire Twitter owner Elon Musk as a child, seated with his mother on a sofa while a Black domestic worker sits on the floor next to them. 
This photograph spread across Twitter on Aug. 1, 2023, and the post claimed: "This is Elon musk and his parent. They had a black women helper. Who was not allowed to seat [sic] on their sofas. Who was not allowed to ask any questions. Elon musk is a racist white man like his parents."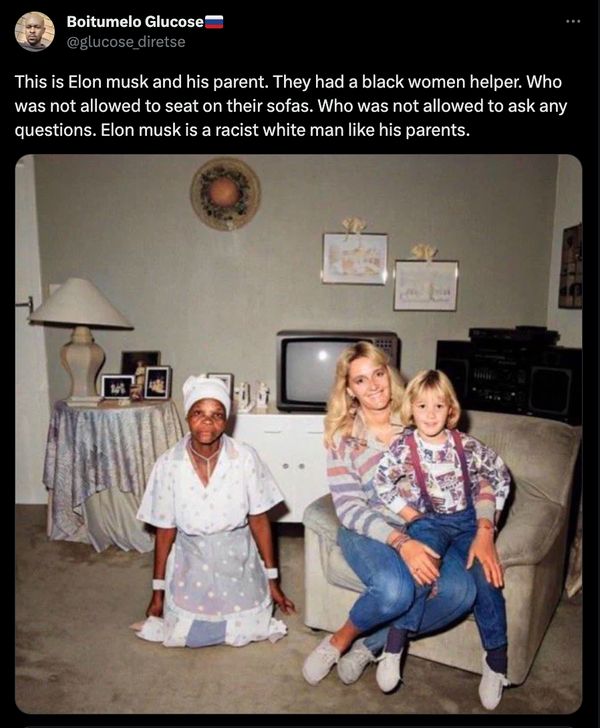 (Screenshot via Twitter)
However, the photograph in question does not show Elon Musk and his mother and is miscaptioned. The original photograph is available in the archives of the Harvard Art Museum. It was taken around 1988-1990 by Rosalind Solomon in Johannesburg, South Africa, and is titled "Mother, Daughter, Maid." The photograph is part of a series titled "Women: Matter and Spirit."
The National Gallery of Art in Washington, D.C, also has an entry on this photograph, saying it was taken in 1988 and printed in 1993. 
It was featured in a collection of Solomon's works titled "The Forgotten." A reviewer wrote of Solomon's rebellious nature that led to her being skeptical of society around her, as reflected in the above photograph:
On occasion, Solomon's cultural views encroach more overtly. Raised in a strict home—"My childhood in Highland Park was difficult. White gloves, white teeth. Smiling was important."—she's always fostered a rebellious streak. Short texts in the book bite with skepticism, in particular Ilya Kaminsky's poem, which spouts sarcastically, "…our great country of money (forgive us) lived happily during the war." 

If that excerpt hints at dissension, Solomon's pictures follow suit. Her well-known photo of a white family posing near their hapless black maid ("Johannesburg, South Africa, 1988") is so sharply observed it might be an editorial cartoon.
If we were to assume these were members of Musk's family — since the subjects of the image are unnamed — the 1988 date of the photograph means the child could not have been Musk, as he would have been in his late teens at the time (he was born in 1971). His sister ,Tosca, who was born just a couple of years later based on our calculations (she was 47 in 2022 according to The New York Times), would also have been in her early teens, around 14 at the time this photograph was taken. The child in the photograph is too young.
We also looked at many photographs of Maye Musk from the mid-80s and compared her to the blond woman in the image. While they look similar, there are noticeable differences in their noses, chins, and cheekbones. 
Even though the above photograph was not showing the Musk family with staff, we know from a New York Times investigation that Musk grew up in a South Africa that still practiced apartheid, with segregated, white communities largely shielded from the atrocities committed against Black people.
However, his Black former classmates told The New York Times that he did have a few Black friends growing up. Errol Musk, his father, claimed that the future Twitter owner and his siblings knew something was wrong with the system from a young age, and that he had good relationships with Black domestic staff. His school was considered more socially progressive for the time, and a fellow student recalled Musk chiding a white student for using an anti-Black slur.
All this information does not preclude Musk's childhood home from experiencing similar situations to the one in the above photograph, but there is no evidence proving they are the family in the viral image. 
In adulthood, Musk faced an accusation of sexual harassment from a SpaceX employee (which he denied), and his company Tesla has been accused of allowing racial discrimination against Black employees. 
In short, we have no evidence of abuse or mistreatment towards domestic staff while Musk grew up in South Africa. However, laws in apartheid-era South Africa inherently placed Black workers on a lower social and economic strata, making the balance of power skewed, regardless of how well employers treated them. 
Whatever the circumstances in which Musk grew up and his relationship with the racist, apartheid system, the above photograph does not show his family alongside of its domestic staff. We thus rate this claim as "Miscaptioned."