Claim:
A photo from the early 1900s shows a charging station for an electric bus.
A photo often shared on social media purportedly shows an electric bus driving into a "charging and power station" in the early 1900s.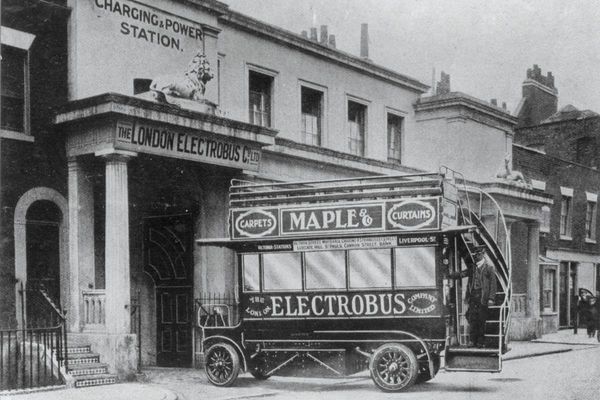 The picture shows an authentic bus charging station operated by the London Electrobus Company during that company's short existence between 1906 and 1909. A version of this photo appears in the Getty Images archives. 
As reported by The Economist in 2007, these charging stations were not plug-in stations as we know them today, but instead were facilities in which old batteries were swapped for fresh ones: 
The electrobus needed 1.5 tonnes of lead-acid batteries to carry its 34 passengers. It could travel 60km (38 miles) on one charge. So at lunchtime the buses went to a garage in Victoria and drove up a ramp. The batteries, slung under the electrobus, were lowered onto a trolley and replaced with fresh ones. It all took three minutes.  
An ad for the company indicated that they had two charging and power stations for electric buses located at 1 Earl Street and 45 Horseferry Road in London. Here is another close-up photo of one such "electrobus" from 1907: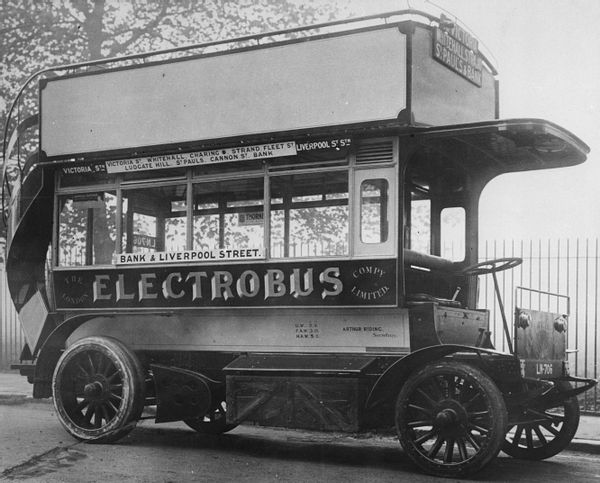 By several reports, the buses were a hit, thanks to their reduced noise and smoother ride. In debuting their first bus in 1906, the directors of the company said that they "confidently anticipate that the petrol omnibus, young as it is, will shortly be an obsolete vehicle, so far as urban traffic is concerned." 
It was not to be. The company was beset by allegations of fraud during its effort to go public on the London Stock Exchange in 1908. As described in The Economist, the company had been duped by a team of con artists:
The firm was buying rights to a patent for £20,000 (£7.5m, or $15m, in today's money) from the Baron de Martigny. But the patent was old and had nothing to do with battery buses. It was a scam. Investors asked for their money back, and the firm had to return £80,000. The investors would have been even less impressed had they known the true identity of the "Baron", who was a Canadian music-hall artist.

Martigny was only the front man. The mastermind behind this and a clutch of subsequent scams was Edward Lehwess, a German lawyer and serial con-artist with a taste for fast cars and expensive champagne. After this initial fiasco, the London Electrobus Company struggled to raise money. But Lehwess had set up a network of front companies to siphon off its funds. Chief among these was the Electric Vehicle Company of West Norwood, which built the buses.
The company collapsed entirely in 1909. Because, however, the photo is in several archives and the buses and their charging stations are documented in newspaper accounts from that time, the claim is "True."