Claim:
Data released by the Canadian government show that 74% of triple-vaccinated people now have a reduction in immune system performance known as Vaccine Acquired Immunodeficiency Syndrome (VAIDS).
In early October 2023, a story from the anti-vaccine outlet The Exposé went viral on social media and was shared by several conspiracy- or anti-vaccine focused influencers. Its claims were also picked up by junk news site The People's Voice, whose repost of the story came with the headline, "Canadian Gov't Admit 74% of Triple Vaccinated Now Have VAIDS."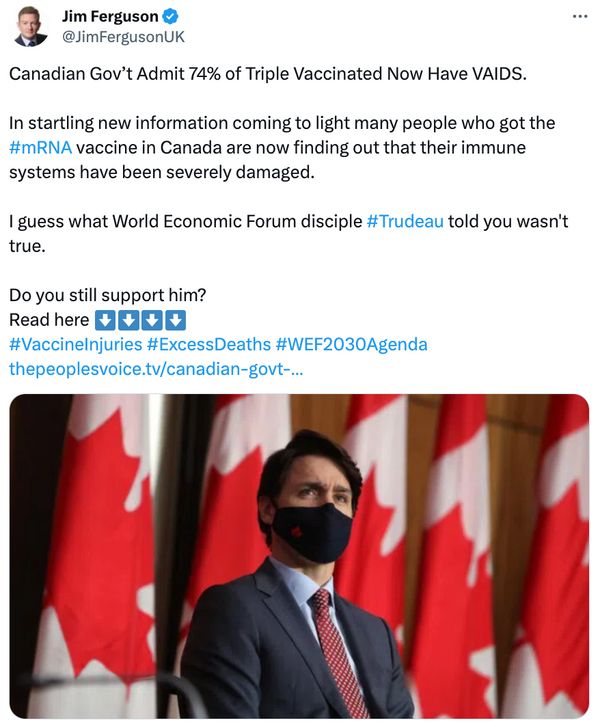 An Oct. 3, 2023, post on X, formerly Twitter, from former blender pitchman and vocal anti-vaccine conspiracy theorist David "Avocado" Wolfe interpreted a version of the same story as "74% of the population across Canada'' having "full-blown VAIDS." There are at least three reasons this claim is false or problematic. 
First, VAIDS (Vaccine Acquired Immunodeficiency Syndrome) is not an actual medical condition but was instead invented by the right-wing, pseudoscientific medical group America's Frontline Doctors. Second, the underlying data on which The Exposé relies does not say what the outlet claims it says. Third, the story on which the October 2023 viral headlines and claim originate is not new — The Expose published an identical article with the same headline (on a different URL) in March 2022.
VAIDS Is Not Real 
Interest in the term "VAIDS" spiked the week of Dec. 5 to Dec. 11 2021, according to Google Trends. It was during this time, on Dec. 5, that America's Frontline Doctors put out a news release suggesting VAIDS was a potential risk of the just-released COVID-19 vaccines: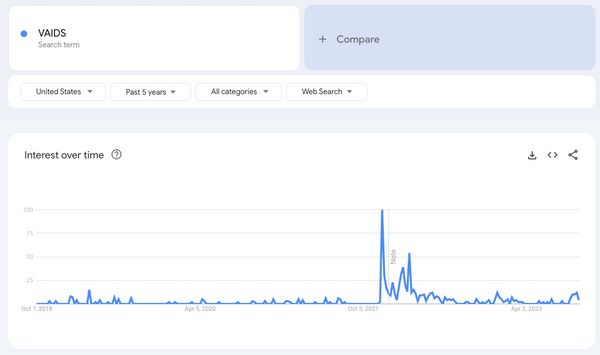 Several times since then, various publications have run stories asserting that scientists have proven the existence of this condition, and each time that happens, experts have been marshaled to remind the internet that VAIDS is a made-up scare tactic. For example, in February 2022, Reuters provided this expert testimony:
"There is no phenomenon that I know of 'Vaccine-induced immunodeficiency syndrome.' It is not a real syndrome," Donna Farber, chief of the Division of Surgical Sciences and Professor of Microbiology & Immunology at Columbia University, told Reuters via email.

Likewise, Stephen Gluckman, MD, a professor of Infectious Diseases in the Perelman School of Medicine at the University of Pennsylvania and the medical director of Penn Global Medicine, told Reuters "VAIDS" is "absolutely not" a real condition.
During a September 2023 flare-up of online claims about VAIDS, the Associated Press (AP) contacted Dr. Matthew Laurens, a pediatric infectious disease specialist and researcher at the University of Maryland School of Medicine's Center for Vaccine Development. He stated that:
VAIDS is something that simply does not exist. [...] It is not found in the scientific literature. There is no evidence that COVID-19 vaccination leads to immunodeficiency.
Data Used To Support Claims Are Misinterpreted
The argument based on Canadian government data stems from the anti-vaccine outlet The Exposé, which relies on an interpretation of data that is grossly inaccurate. That outlet asserted:
Double vaccinated individuals across Canada had an immune system performance of -69.56% by the 27th Feb 22, but triple vaccinated individuals across Canada had an immune system performance of -80.56%. This is what Covid-19 vaccination has done to the people of Canada.

AIDS (acquired immune deficiency syndrome) is the name used to describe a number of potentially life-threatening infections and illnesses that happen when your immune system has been severely damaged. [...]

Unfortunately, official Government of Canada data indicates that a large proportion of the double vaccinated and triple vaccinated population have now developed Acquired Immune Deficiency Syndrome, (AIDS) or a novel condition with similar attributes that can only be described as Covid-19 Vaccine Induced Acquired Immune Deficiency Syndrome (VAIDS).
The Exposé is misusing data on which it bases its central claim. It does this by conflating data on "vaccine effectiveness," which inherently wanes overtime, with something the publication calls "immune system performance," which it suggests represents the body's overall immune system but that is not discussed in the Canadian data at any point:
These figures [from the Canadian government] show the average triple vaccinated Canadian has lost 72.96% of their immune system capability, meaning they are down to the last 27.04% of their immune system for fighting certain classes of viruses and certain cancers etc. [...]. And as we know, vaccine effectiveness (which is really immune system performance), is declining by the week.

[...] And based on the following official figures on death, we propose that many double and triple vaccinated Canadian's [sic] have surpassed the minus-90% to minus-100% immune system performance barrier, meaning they have essentially developed some new form of Covid-19 vaccine induced Acquired Immune Deficiency Syndrome.
The protection offered by a vaccine does wane over time, but to conflate this with an overall reduction in the totality of a person's immune system in general is a misuse of data. As the Public Health Agency of Canada (PHAC) said in a March 2022 email to fact-checking outlet Lead Stories, The Exposé article "clearly misrepresents how vaccines and the immune system work":
There is also no evidence that COVID-19 vaccines impair the immune system or increase the susceptibility of COVID-19-vaccinated individuals to other (non-SARS-CoV-2) viruses or any other pathogen. 

Many studies carried out by a myriad of independent research groups have consistently demonstrated that the COVID-19 vaccines induce a robust immune response in vaccinated individuals and the fact that they are so protective against hospitalization and death from COVID-19 attests to the fact that the immune response is not impaired by these vaccines.
Finally, This Is an Old Claim
The "analysis" at the root of these viral VAIDS claims is invariably from the outlet The Exposé, whose misuse of data to support bogus claims about vaccines Snopes has previously debunked. In this case, The Exposé presented these claims about VAIDS as if it were a new story first published by the outlet on Oct. 1, 2023. In reality, this is is actually an identical copy of a story The Expose published on March 20, 2022: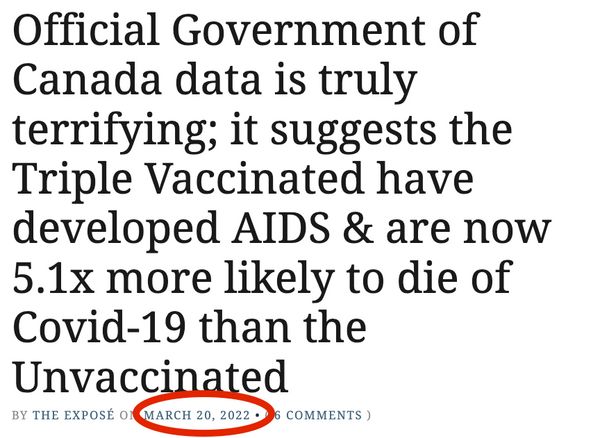 That outlet's claims are no more valid now than they were then. Because this old claim stems from a misrepresentation of data and the invention of a disease that the medical community does not recognize, we rate the claim about "VAIDS" cases as "False."