Claim:
A pair of photographs shows the same location in Bucha, Ukraine, following Russia's withdrawal in April 2022 and roughly a year after efforts to rebuild were undertaken.
In May 2023, images of Bucha — a suburb of Kyiv in Ukraine — taken roughly a year apart went viral. The early image showed a dystopian scene with burned out and abandoned tanks and widespread destruction. The latter image showed a street without tanks that had been rebuilt:
These pictures authentically show the location on the same street: Vokzal'na Street. Russian military activity in Bucha centered around the intersections of Vokzal'na Street and Yablunska Street. 
It was here, according to a Pulitzer Prize-winning, eight-month visual investigation by The New York Times, that Russian paratroopers from the 234th Air Assault Regiment, led by Lt. Col. Artyom Gorodilov, committed some of the worst atrocities of the early invasion: 
An eight-month visual investigation by The New York Times concluded that the perpetrators of the massacre along Yablunska Street were Russian paratroopers from the 234th Air Assault Regiment led by Lt. Col. Artyom Gorodilov.

The evidence shows that the killings were part of a deliberate and systematic effort to ruthlessly secure a route to the capital, Kyiv. Soldiers interrogated and executed unarmed men of fighting age, and killed people who unwittingly crossed their paths — whether it was children fleeing with their families, locals hoping to find groceries or people simply trying to get back home on their bicycles.
Ukrainian forces recaptured Bucha on March 31. Following Russia's retreat, satellite imagery showed the bodies of executed civilians lining Yablunska Street at its intersection with Vokzal'na Street. 
The tank appearing in the viral tweet also appeared in other widely circulated images taken in April 2022, and it was identified by NPR and others as showing Vokzal'na Street. The tank in that photograph was abandoned with its gun pointed to the left and parked in front of a sign indicating that the "АТБ" market is 500m down the street: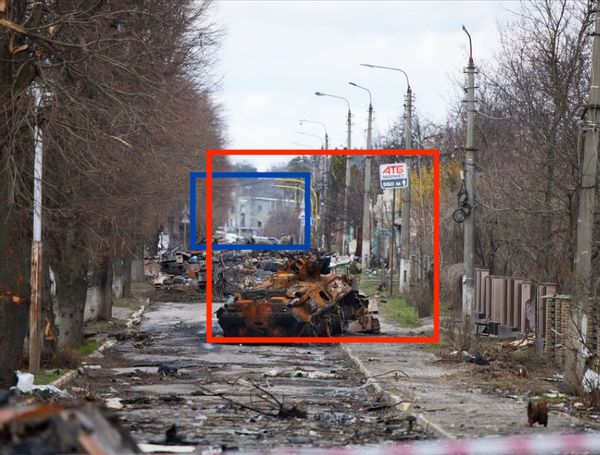 This appears to be the same tank in the viral tweet above. Buildings shown in the more recent photograph match their location in the April 2022 photo: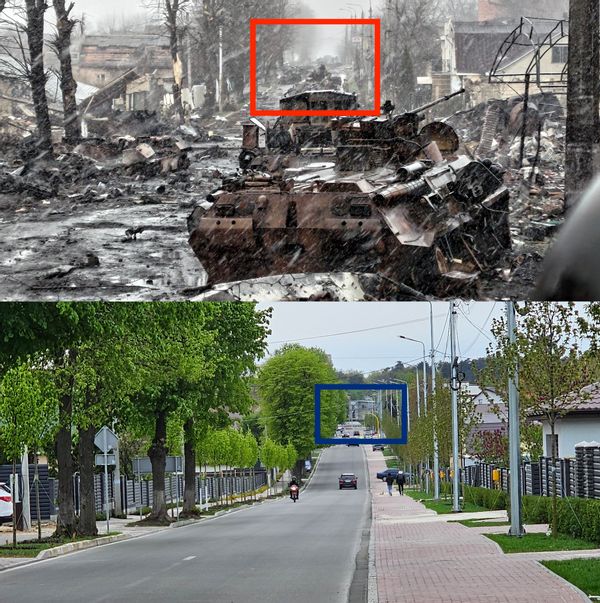 A photograph taken by Dominika Zarzycka on April 17, 2023, identified as Vokzal'na Street, shows workers rebuilding the sidewalk as it appears in the more recent picture. 
Because both pictures are taken from the same location in view of the same buildings and signs; because that location has been identified on the ground as Vokzal'na Street; and because recent photographs match the reconstruction shown in the viral picture, we rate this claim as "True."