Claim:
A photograph authentically shows police officers measuring women's bathing suits for compliance with modesty laws on Venice Beach, California, around 1930.
A photograph commonly shared on Reddit and other social media sites is described as showing "Bathing suit police/beach censors enforcing modesty at Venice Beach."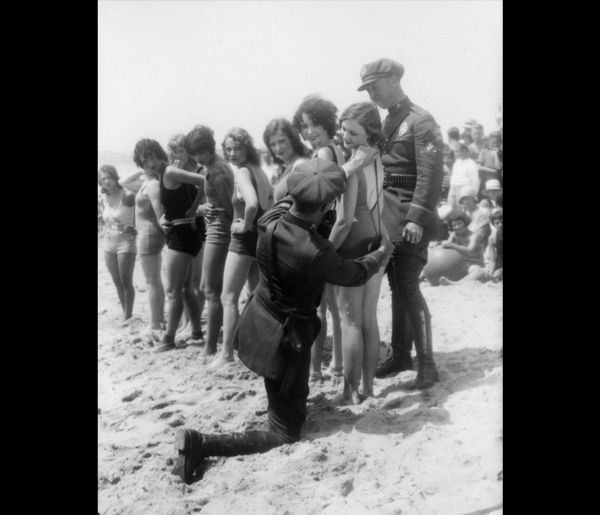 This picture is genuine and the description of its location is accurate. It's part of the Security Pacific National Bank Collection of photographs contained in the digital collections of the Los Angeles Public Library. Its date is listed as circa 1930, and the photograph's description reads:
Two policemen on the beach measure the bathing suits on a line of women in order to determine if they are wearing anything too skimpy. A crowd seated on the sand behind them watches the fun.
In the 1920s and '30s, several states and local governments had laws in place regulating how revealing a woman's bathing attire could be in public. The beaches of Los Angeles, California, were no exception. A March 1930 story in Venice, California's, Evening Vanguard, as an example, described a conference called between all the county's beach authorities to standardize so-called bathing suit rules:
At the present time much confusion results from the varying regulations which are in effect at different beaches. A bathing suit, for instance, which may be perfectly proper and acceptable at one beach is distinctly taboo at another. …

At the present time different regulations apply in the matter of bathing suits, particularly those for women. This causes many beach patrons to violate laws at times without knowing it. 
An April 1930 article in the same paper reported that, "Venice police have already received numerous complaints from citizens of bathers who parade the business and residential streets of that community in bathing attire, contrary to law," suggesting active enforcement of bathing suit laws in Venice at the time. 
Because the picture is part of an official archive and because its description matches the historical context of the time, we rate this claim as "True."