On April 12, 2023, journalist Seymour Hersh published an article on Substack titled "Trading with the Enemy." Its central allegation, heavily promoted by Russian state media and conspiracy websites like Infowars, was that Ukrainian President Volodymyr Zelenskyy had embezzled at least $400 million of U.S. aid money by using it to purchase discount fuel from Russia and pocket the difference:
The Ukraine government […] has been using American taxpayers' funds to pay dearly for [...] vitally needed diesel fuel […]. Zelensky has been buying the fuel from Russia […] and the Ukrainian president and many in his entourage have been skimming untold millions from the American dollars earmarked for diesel fuel payments. 
Hersh, who won a Pulitzer Prize in 1970 for exposing the U.S. military's role in the My Lai Massacre, made headlines in February 2023 when he claimed that the United States had conspired with Norway to sabotage the Nord Stream pipelines using a NATO training exercise as cover. 
As Snopes explained in a story discussing those claims, Hersh's later career has been controversial and widely panned by journalists for promoting conspiratorial claims that hinge on dubious anonymous sources or speculation. This later work is often sympathetic to Russian talking points, and his work is widely covered there. 
Hersh's present claim fits plainly within that genre. Characteristically, it has been promoted by Russian media. Hours after publishing his piece, the Russian news agency TASS promoted Hersh's claims: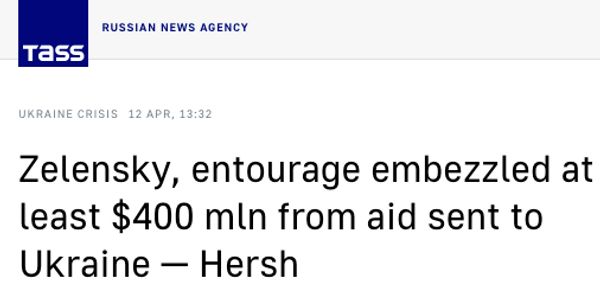 The assertion entered the United States political sphere too, with the U.S. Libertarian Party sharing the claim to argue against providing aid to Ukraine:
A Knowledgeable Source
Hersh's article makes its headline claim in the intro paragraphs of a post whose remaining content is behind a paywall. Those wondering if the remaining article provided evidence to support his incendiary headline claim may end up feeling short-changed. The entirety of the claim apparently comes from what Hersh describes as "one knowledgeable American intelligence official":  
One estimate by analysts from the Central Intelligence Agency put the embezzled funds at $400 million last year, at least; another expert compared the level of corruption in Kiev as approaching that of the Afghan war, "although there will be no professional audit reports emerging from the Ukraine."

"Zelensky's been buying discount diesel from the Russians," one knowledgeable American intelligence official told me. "And who's paying for the gas and oil? We are. Putin and his oligarchs are making millions" on it.
From a sourcing standpoint, these paragraphs could be read as implying the claim stems from, or is supported by, the testimony of multiple individuals and/or documents. It could also be read, however, as the claim stemming from one individual who relayed information in an alleged CIA analysis to Hersh. 
Snopes asked Hersh if he had personally seen the analysis, or if that information was relayed to him via his knowledgeable source. "I'm sure you understand why I cannot discuss sources or sourcing," he responded by email. "[I] just cannot."
The remainder of the article, including that part behind the paywall, weaves together factual information that is neither new, revelatory, or in defense of the embezzlement claim, with the testimony of what appears to be this same anonymous intelligence official. Importantly, the claim that Zelenskyy is purchasing oil from Russia is never addressed again. 
The Real Events
Hersh does not show his evidence regarding the alleged embezzlement, but he uses the testimony of his source or sources to make the claim feel plausible. The testimony provided by such sources, in turn, references verifiably real events or incidents that lend credence to these claims. 
For example, Hersh's source references a meeting between CIA Director William Burns and Zelenskyy to paint the U.S. intelligence community as furious at Zelenskyy's "greed":
The issue of corruption was directly raised with Zelensky in a meeting last January in Kiev with CIA Director William Burns. His message to the Ukrainian president, I was told by an intelligence official with direct knowledge of the meeting, was out of a 1950s mob movie. The senior generals and government officials in Kiev were angry at what they saw as Zelensky's greed, so Burns told the Ukrainian president, because "he was taking a larger share of the skim money than was going to the generals." 
A meeting between Burns and Zelenskyy did occur in mid-January 2023. The existence of the meeting was widely publicized, though the specific information exchanged at that meeting is unknown. 
Hersh's source happily fills in the details with unverified claims not only of Ukrainian officials skimming money but also the assertion that Zelenskyy begrudgingly fired some corrupt Ukrainian officials due to pressure from the CIA:
Burns also presented Zelensky with a list of thirty-five generals and senior officials whose corruption was known to the CIA and others in the American government. Zelensky responded to the American pressure ten days later by publicly dismissing ten of the most ostentatious officials on the list and doing little else. "The ten he got rid of were brazenly bragging about the money they had—driving around Kiev in their new Mercedes," the intelligence official told me.
It is not clear, and Hersh did not clarify in our correspondence, if the "intelligence official with direct knowledge of the meeting" is the same source as "one knowledgeable American intelligence official." Regardless, this anonymous source tied that meeting with Burns to actions that Zelenskyy took to weed out corruption amongst high-level Ukrainian officials weeks later. 
On Jan. 24, 2023, Zelensky fired, or accepted the resignation of, 10 top Ukrainian officials, as reported by Yahoo News: 
Ukrainian President Volodymyr Zelenskyy fired at least nine top officials […] as his government battles claims of bribery and officials splurging on lavish lifestyles during the war. Four deputy ministers and five regional governors were sacked by Ukraine's cabinet … Ukraine's deputy prosecutor general, Oleksiy Symonenko, also announced his resignation on the same day, the BBC reported.
The resignation of Symonenko, in particular, appears to be one of the events whose details were referenced by Hersh and his sources; Symonenko left office after reporting showed him taking a vacation in Spain with a Mercedes in December 2022. As reported by Yahoo:  
The wave of dismissals and resignations comes as some of Ukraine's top leaders were accused of buying military food at inflated prices and taking luxury holidays as their countrymen fight Russia's invasion. In December, Symonenko went on holiday to Spain using a Mercedes owned by a prominent Ukrainian businessman, The Guardian reported.
An Unrelated Set of Grievances
While unrelated to the headline claim of embezzlement or the salacious claim of Ukrainian officials purchasing Russian oil, Hersh's story closes by suggesting a rift exists between Biden and the U.S. intelligence community, and by raising the specter of American participation in a "forever war." 
Like most of the assertions in his story, Hersh's claims regarding a rift in the intelligence community are generally sourced to an "intelligence official." Despite the apparent high-level access of this source, the information provided to Hersh is extremely generic and of almost no evidentiary value:
"There is a total breakdown between the White House leadership and the intelligence community," the intelligence official said. [...]

"They just tell lies, make up stories. Diplomatic deniability is something else," the intelligence official said. "That has to be done." [...]

The intelligence official told me that everything Putin has been "doing in Ukraine is counter to Russia's long-term interests.
To raise the specter of a forever war, Hersh and his source paint a well-known and heavily reported on U.S. and NATO troop movements in Eastern Europe as a "little-known and rarely discussed," and imply it represents a covert increase on the part of the U.S. military: 
The official cited the little-known and rarely discussed deployment, authorized by Biden, of two brigades with thousands of America's best army combat units to the region. A brigade of the 82nd Airborne Division has been intensively training and exercising from its base inside Poland within a few miles of the Ukrainian border. It was reinforced late last year by a brigade from the 101st Airborne Division that was deployed in Romania. [...] 

The intelligence officials told me that "there is no evidence that any senior official in the White House really knows what's going on in the 82nd and 101st.  Are they there as part of a NATO exercise or to serve with NATO combat units if the West decides to engage Russians units inside Ukraine? Are they there to train or to be a trigger? The rules of engagement say they can't attack Russians unless our boys are getting attacked."
As plainly described in news releases (and news and television reports), the Romania deployment mentioned above, which occurred in June 2022, brought troops to "reinforce NATO's eastern flank and engage in multinational exercises with partners across the European continent in order to reassure allies and deter further Russian aggression." 
This deployment was not, as Hersh's reporting implied, an increase in U.S. troops on the ground in Europe. Instead, these troops were replacing — according to the U.S. military —  those troops rotating out of service. We asked Hersh about this discrepancy, but his response did not address this question. 
Bottom Line
Readers of Hersh's reporting could be forgiven if, by the end of the story, they forgot that it was allegedly an expose on Ukrainian embezzlement. Despite being the primary assertion of the story, only two paragraphs are dedicated to the claim. Hersh hides this clear lack of supporting evidence under a torrential onslaught of superfluous information. 
As in his fundamentally flawed investigation claiming U.S. involvement in the Nord Stream pipeline sabotage, his present claim is bolstered by references to actual events and tinted with conspiracy, thanks to the testimony of anonymous intelligence sources (or potentially a sole source) claiming to have non-public insight into those events. 
Fundamentally, the actual news presented in his story is that someone knowledgeable supposedly told Hersh that Zelenksyy and his "entourage" have been embezzling U.S. funds by purchasing discounted Russian oil and pocketing the difference. 
It's an incendiary claim for which no actual evidence is proffered.