On Feb. 12, 2023, Republican U.S. Rep. Marjorie Taylor Greene championed an unusual cause for a politician traditionally opposed to environmental protection and in support of expansive federal deregulation: an environmental disaster in East Palestine, Ohio caused by a train derailment that likely occurred as a result of poor federal safety regulations. 
Her interest in the issue does not appear to have been unprompted. Greene's first tweet on the derailment followed the publication of a video that had been distributed by a far-right political group just hours earlier. As Snopes reports here, an increase in right-wing, pundit-based coverage of the derailment followed that video, launching a wide-ranging effort to frame the disaster as an indictment of Biden, the deep state, or other boogeymen associated with the American left. 
While that early coverage promoted largely factual information about the disaster, the facts fed to this anti-Biden audience were rapidly incorporated into niche narratives, false statements, and full-blown conspiracy theories. 
Regardless of their bent, each of the narratives promoted by these political groups relied on the false premise that the event received no media coverage before conservative politicians began speaking about it, and that liberal politicians had been ignoring the event. 
The Derailment and Early Coverage
The disaster began on Feb. 3, 2023, when a 50-car freight train transporting hazardous chemicals derailed in East Palestine, Ohio. On Feb. 6, fears over the instability of one of those chemicals led the operator, Norfolk Southern Railroad, to begin a "controlled release" of the toxic chemical vinyl chloride. That decision led to evacuations and subsequently created a massive and fiery plume of chemicals. 
Controversy ensued when residents were told, just days later, that it was safe to return to their homes. The presence of dead fish, dead pets, and livestock in the immediate area did not inspire confidence in that assessment. Further complicating things was the delay by the EPA and National Transportation Safety Board in producing a full list of chemicals potentially released into the environment. 
Still further controversy followed the event when NewsNation reporter Evan Lambert was arrested at a Feb. 8 press conference while reporting during Ohio Gov. Mike DeWine's update on the derailment and environmental fallout. Subsequent video footage shows the altercation began when a National Guard leader told Lambert, aggressively, to be quiet. Later, DeWine spoke out against the arrest and the charges were dropped. Nevertheless, conspiracy theorists used the arrest to support their "media is being controlled" narrative. 
Contrary to claims made days later, all of these events were well covered in both local and national media outlets. As just one example, here is a snippet of the Washington Posts' pre-Feb. 12 coverage of the disaster: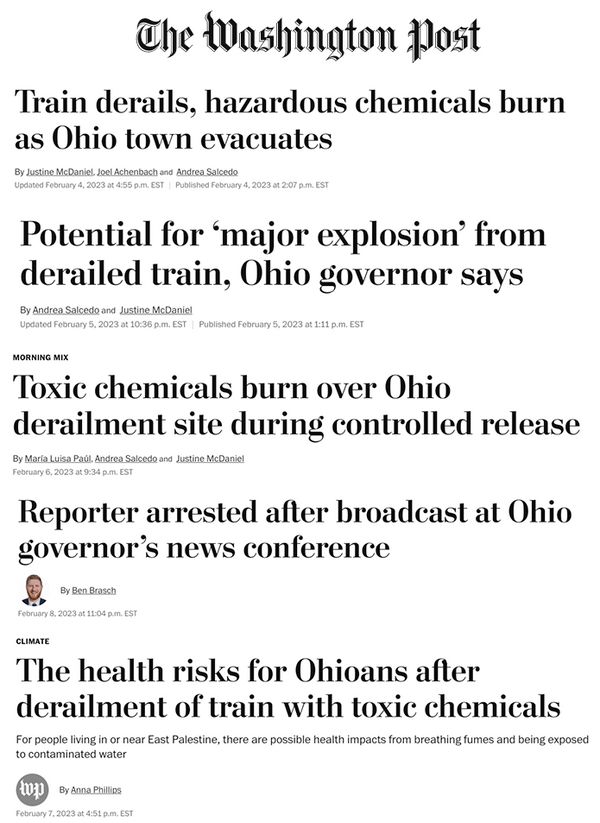 On Feb. 14, pseudoscience and conspiracy website Natural News — whose own reporting had relied on reporting from the AP, CNN, NewsNation, The Pittsburgh-Post Gazette, and several local news outlets — described coverage of this event as a "media blackout."  
Initial Conspiratorial Politicization 
Though the derailment occurred on Feb. 3 and the chemical release began on Feb. 6, it wasn't until Feb. 12 that the event drew the interest of right-wing pundits. Their interest appears to have followed a video initially produced by a political group named American Virtue, which claimed "there is currently an ecological disaster in Ohio, and no one in the media is speaking about it."
American Virtue is a project of the far-right American Bull Moose Foundation, and, according to the nonprofit group Political Research Associates, appears "to be a venue for young White nationalists to curry favor with a new crop of MAGA-aligned political figures." It is meant to be, that organization reported, at least superficially, a more mainstream version of Nick Fuentes' far-right white nationalist group, America First.
Their video on the East Palestine derailment drew on a narrative that had already been pushed by conspiracy theorists like Stew Peters, who tied the purported lack of mainstream coverage to an obsession with spy balloons and unidentified flying objects. Greene's first tweet took this approach:
Both Peters' and Greene's Twitter timelines, it bears mentioning, were filled with conspiracy theories about these objects prior to Feb. 12, and neither made any mention of East Palestine prior to Feb. 12. 
On the one hand, the issue of train safety is a counter-intuitive policy issue for "MAGA-aligned" political figures. In the early days of his administration, former President Trump championed the removal of federal regulations as a policy priority. As part of that effort, Trump repealed relevant regulations that concern the freight train industry, as reported by Lever News on Feb. 8:
The sequence of events began a decade ago in the wake of a major uptick in derailments of trains carrying crude oil and hazardous chemicals, including a New Jersey train crash that leaked the same toxic chemical as in Ohio.

In response, the Obama administration in 2014 proposed improving safety regulations for trains carrying petroleum and other hazardous materials. …. Then came 2017: After rail industry donors delivered more than $6 million to GOP campaigns, the Trump administration — backed by rail lobbyists and Senate Republicans — rescinded part of that rule aimed at making better braking systems widespread on the nation's rails.

Specifically, regulators killed provisions requiring rail cars carrying hazardous flammable materials to be equipped with electronic braking systems to stop trains more quickly than conventional air brakes. 
On the other hand, however, sowing mistrust of federal agencies during an environmental disaster that occurred under a Democratic administration affecting a large share of White conservative voters offered plenty to pundits suddenly interested in pushing narratives about East Palestine, and was immediately popular with their audiences. 
Early narratives focused on the vague but popular notion that the media or government is manipulating the general public, making similar references to UFOs as Peters and Greene. For example, Turning Point USA's Benny Johnson, whose timeline was full of spy balloon based content beforehand, implied in a Feb. 13 tweet that the news about unidentified objects in space was a distraction from government malfeasance related to the derailment: 
Hours later, former Trump 2016 campaign staffer and right-wing influencer George Papadapolous made the same vague allegation:
'War on White People' Politicalization 
Eventually more specific narratives emerged, including those in line with American Virtue's alleged political bent toward white nationalism. Far-right figures alleged that the largely white population of the region is why the Biden Administration had not taken the incident seriously. As reported by Media Matters, right-wing pundit Charlie Kirk alleged on Feb. 14 that Biden's inaction was part of a "war on white people":
Not a single member of the Biden regime would dare to go to this portion of Ohio and breathe in the air because they know it's dangerous. They know that it is actively poisoning the citizens of eastern Ohio. So, why is it that they kind of shrug their shoulders and they say, yeah, okay, whatever? It's very simple. It's because the war on white people continues. Why would you care for the white working class voters in eastern Ohio? You haven't cared about them in other reasons or other portions.

And I will prove it to you. If this train derailment happened in downtown Atlanta in the densely populated Black neighborhoods, this would be the number one news story. It would be Flint water crisis 2.0. There would be clamoring and activism and talks for reparations. And Buttigieg, meanwhile, is out there saying, listen -- while this derailment is happening, while the act of poisoning is happening, he's saying, look, the problem is that workers are too white. 
Fox News host Jesse Waters also promoted this talking point on Feb. 13, in his criticism of current EPA Commissioner Micheal Reagan, who is Black:
Does this guy Reagan even know anything about the environment? Well, we looked into him, and the only reason he was nominated to run the EPA was because he promised to fight off environmental racism. Is this his idea of fighting environmental racism? Spilling toxic chemicals on poor white people in Ohio? He doesn't have time to worry about a cloud bomb of toxic fumes over Ohio?
On Feb. 14, Tucker Carlson claimed on his primetime show that the demographics and politics of the region were not of interest to Biden or his administration:
East Palestine is overwhelmingly white and it's politically conservative. … That shouldn't be relevant but as you're about to hear, it very much is. …

Imagine if this happened in, well, the favored cities of Philadelphia and Detroit … in both cases, had it affected the rich or the favored poor, it would be the lead of every news channel in the world. But it happened to the poor, benighted town of East Palestine, Ohio, whose people are forgotten and, in the view of the people who lead this country, forgettable.
The Bottom Line
Many in both the Democratic party and the GOP were quiet about the East Palestine train disaster for days. It was not until a political group's talking points emerged and were shared widely on social media that the issue reached late-night pundits. By then, the claims had become both conspiratorial — "the government and media are lying to you" — and tied to popular conservative talking points — "Democrats don't care about working-class conservative White Americans." 
These narratives are propelled by two flawed assertions. First, they rely on claims that there has been a media blackout — a notion belied by the media's daily reporting on the disaster and these political groups' use of that reporting to make their arguments. Second, they rely on the notion that only GOP aligned pundits or politicians are discussing the disaster. This is also not true.
There has, in fact, been bipartisan concern about the causes of the disaster and how it was subsequently handled. Further, Republican and Democratic politicians and members of the Biden EPA visited the site of the derailment on Feb. 16, 2023, as reported by Fox News:
The administrator of the U.S. Environmental Protection Agency and Sens. JD Vance and Sherrod Brown will visit the train derailment site in East Palestine Thursday, a day after Norfolk Southern snubbed residents by skipping out on an informational town hall, citing safety concerns for employees.

Vance, a Republican newly sworn into office at the start of the year, will hold his own press conference at 11:15 a.m. – an hour and half before Brown, a Democrat, will join Michael Regan, the EPA administrator under the Biden administration, for an event of their own at the East Palestine derailment site.

Vance sent a letter to the CEO of Norfolk Southern requesting the company expand its existing reimbursement program to include all East Palestine residents. He and Sen. Marco Rubio, R-Fla., sent a letter to Department of Transportation Secretary Pete Buttigieg demanding answers on the derailment.

Together, Vance and Brown, as well as Sens. Bob Casey and John Fetterman, both Democrats representing Pennsylvania, sent a letter to Regan raising concerns about the release of hazardous chemicals in East Palestine. The quartet has also sent a letter to the chairwoman of the National Transportation Safety Board highlighting rail safety concerns.
There is no question that the East Palestine derailment is a massive environmental disaster, a failure at multiple corporate and government levels, and a potential health risk for years to come. Sadly, such a disaster provides clout-seeking pundits with fodder to push inflammatory arguments for political gain. All it took, in this case, was a little push from an outside political group and a tweet by a politician in their orbit.