On Feb. 7, 2023, former U.S. President Donald Trump re-shared a meme on his Truth Social platform that claimed to show a photograph of Florida Gov. Ron DeSantis "grooming high school girls with alcohol as a teacher." The meme named DeSantis as "Ron DeSanctimonious," a nickname previously given to him by Trump.
Cambridge Dictionary provides the relevant definition of "groomer" as "someone who grooms children" and "becomes friends with them with the intention of trying to persuade them to have a sexual relationship."
The term "grooming" has grown in its usage in American politics in recent years, including at least one mention by DeSantis' own press secretary in relation to legislation the governor signed.
As for the photograph, Salon reported that DeSantis addressed the subject after being asked a question. His answer did not specifically address the claim in the meme, but did respond generally.
"I spend my time delivering results for the people of Florida and fighting against Joe Biden," he said as part of his response. "That's how I spend my time. I don't spend my time trying to smear other Republicans."
We contacted DeSantis' press office with further questions and will update this article if we receive a response.
As of this writing, we found some information regarding the origins of the photograph, but did not locate any credible data that would show DeSantis had a history of "grooming high school girls." While a picture of a teacher potentially holding a beer bottle with a group of students would likely be considered problematic, there simply haven't been any publicly disclosed accusations from students that said DeSantis had engaged in any "grooming."
In this story, we'll look at the claim that Trump re-shared, as well as past reporting about the picture.
Trump's Posts
The picture included in the meme that Trump re-shared came from another user's posts.
In the first post, Trump asked, "That's not Ron, is it? He would never do such a thing!"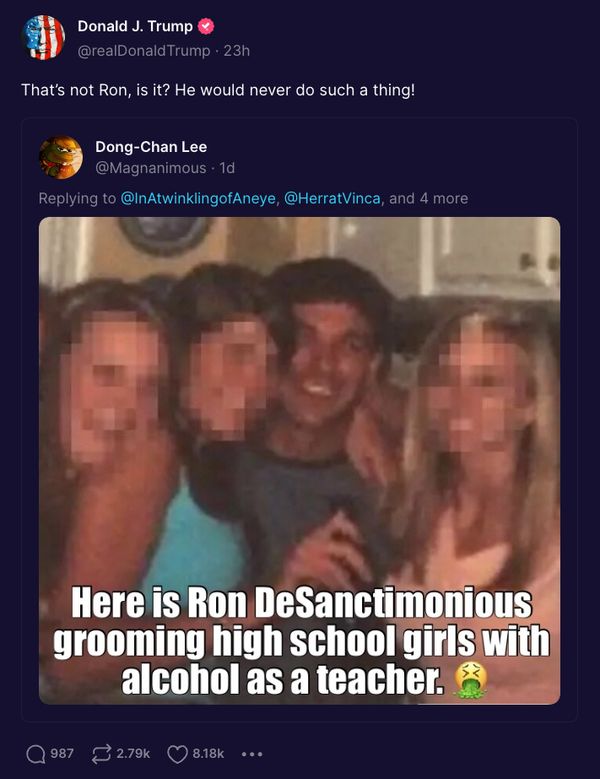 The former president followed up the first post with another one that showed the picture without the meme's words. The post that Trump re-shared included a caption from another user, which read, "Ron DeSantis was having a 'drink' party with his students when he was a high school teacher. Having drinks with underage girls and cuddling them look pretty gross and ephebophiliaesque."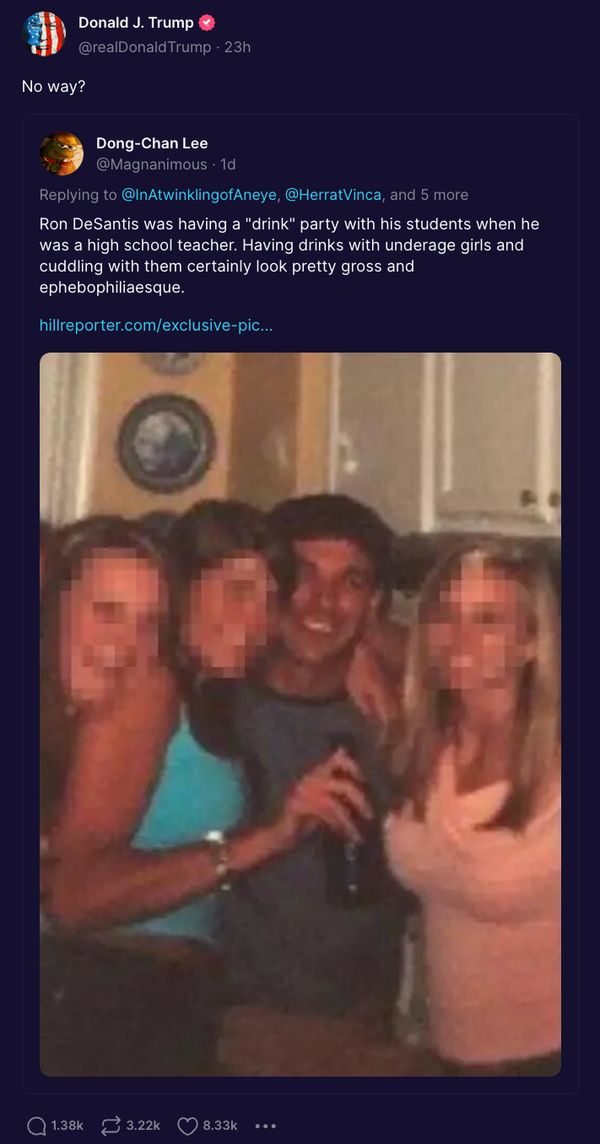 As for the word at the end of the message, Collins English Dictionary defines ephebophilia as "the condition of being sexually attracted to adolescents."
DeSantis' Response
On Feb. 8, the Florida's Voice Twitter account posted a video that showed DeSantis addressing the subject about Trump's Truth Social posts. "BREAKING: DeSantis responds to Trump ReTruth accusing him of being a 'groomer,'" the tweet's caption read.
We transcribed his full answer below.
Question: ... on Truth Social directed at you, some were insinuating that you...

DeSantis: So, here is what I would say about all of that. I get you guys want the controversy.

Question: My question is, how would your proposed legislation against defamation address those posts that could be considered damaging?

DeSantis: Well, if you think, when we did the defamation panel yesterday, I made the point, look, I have a platform. It's different for me cause I can fight back. And people just know, I face defamatory stuff every single day I've been governor. That's just the nature of it. But I have a platform to fight back. A lot of these other people that are more little, they don't necessarily have a platform to fight back. And so, in terms of our reforms, I really want to empower them moreso than people that occupy high positions like me. It just goes with the territory. You gotta have the thick skin. It's also just, practically speaking, I would not take time out of being governor to be fighting lawsuits. It's just not practical in terms of what we're doing.

And I'll also just say this. I spend my time delivering results for the people of Florida and fighting against Joe Biden. That's how I spend my time.

(crowd applauds)

I don't spend my time trying to smear other Republicans.
Hill Reporter Article
The second post Trump re-shared linked out to an article from Hill Reporter, which is a website described by The New York Times as being "a blog put out by a Democratic super PAC." The story was published on Oct. 24, 2021.
The headline of the Hill Reporter article read, "[Exclusive] [PIC] Ron DeSantis Accused of Attending Drinking Party With Students At High School Where He Taught."
According to the story, information about the photograph was provided to a Hill Reporter by "a source with close knowledge of the matter."
While the article did say that the girls "loved" DeSantis," it made no direct claim or provided any evidence in regard to the idea that he had been "grooming" them for sex. That specific claim appeared to have been born in the meme, which Trump later re-shared.
"According to our whistleblower, [DeSantis] had a reputation among students for being a young 'hot teacher' who girls loved, and the girls in the photo are believed to have graduated in 2002, making them seniors at the time," the story read.
Hill Reporter also added, "The source who provided the photo says that it was taken prior to graduation — meaning the young girls would still have been DeSantis' responsibility at the time."
NYT IDs DeSantis in Photo
On Nov. 5, 2022, The New York Times reported about DeSantis' time as a history and government teacher, as well as a coach at Darlington School during the 2001-02 school year. Darlington is a private boarding and day school located in Rome, Georgia.
The Times identified the man in the photograph as being the future Florida governor, and added that "several students recalled that Mr. DeSantis was a frequent presence at parties with the seniors who lived in town."
Last year, Hill Reporter, a blog put out by a Democratic super PAC, published a photograph of Mr. DeSantis taken with several female students from Darlington in 2002, one of whom was holding what appeared to be a bottle of beer.

Two former students, both women, remembered him attending at least two parties where alcohol was served, but they said that the parties took place after graduation and that they were not bothered by his presence at the time, although they question it now. "It was his first job out of Yale, he was cute. We didn't really think too much about it," one of the former students said.
As with Hill Reporter's article, nothing in the story from The New York Times provided documentation about DeSantis "grooming" high school girls in order to later have sex with them. This claim was only directly promoted by the meme.
As for the bottle being held in the photograph, it very well might have been a beer. However, we noted that both the Hill Reporter and The New York Times cautiously reported that it only "appeared" to be a beer bottle.
These are the facts as we knew them as of Feb. 8, 2023. This story will be updated if further developments come to light.