Claim:
Actor William Shatner died in March 2023.
In March 2023, rumors circulated online claiming that "Star Trek" actor William Shatner had died in a car accident. These rumors, like previous instances in which Shatner was reported dead on social media, were false. 
A YouTube video titled "Tragic End for a Legendary Actor: Remembering William Shatner | William Shatner died Car Accident" was posted in mid-March. The "news" of Shatner's death was conveyed in nonsensical, ungrammatical captions over a montage of photos of the actor. For example, one caption read: "The 92-year-old actor William Shatner was driving a car alone when he collided with another elderly woman's car. It is not clear who was killed in the collision, but at the scene, both cars were severely damaged." The video (below) did not cite any sources for these claims.
A Twitter account using the name "who died today" (which was also the name of the YouTube channel) tweeted a link to the video on March 22, along with a fake screenshot of CNN's "Reliable Sources" program on which the chyron read, "Actor William Shatner 'Star Trek' Died Today??"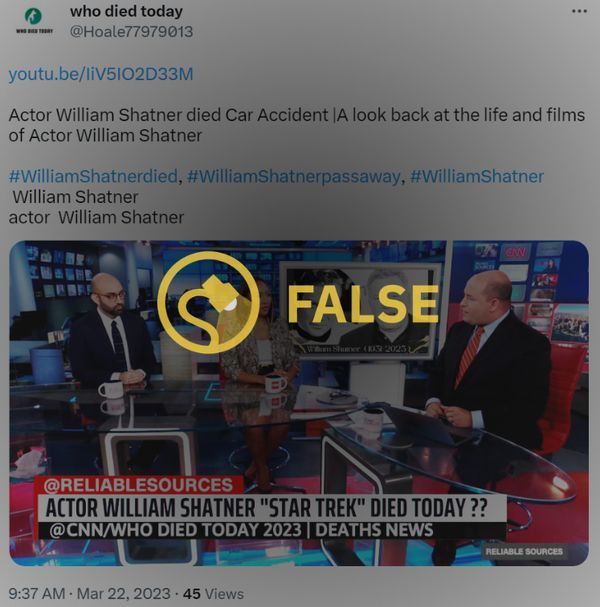 (@Hoale77979013/Twitter)
In fact, the 92-year old from Canada, who acted in "Star Trek" movie franchise, was very much alive, and remained so at the time of this writing. He seemed to be in a jovial mood on April 21, 2023, when he tweeted, "I am writing right side up for down under. It's that you've trained your mind to read upside down text."
This was not the first time (and won't likely be the last) that a Shatner death hoax surfaced online. In 2018, the actor called out Facebook on his Twitter account about the false rumor then going around. "Hey @facebook isn't this your messenger app? What's up with you allowing this Acocet Retail Sales ad to pass your muster? Thought you were doing something about this?"
Aware of these death hoaxes, Shatner has often had to debunk the claim, sometimes taking satirical aim at trolls. "No, I am dead," he tweeted in reply to the question, "Will you ever appear in any of the news shows like DISCOVERY or PICARD?" in 2020.
Sadly, given the public's fascination with celebrities and the ease with which death hoaxes can be concocted and shared, they have become an internet staple over the years. For more, see our explainer about the popularity of celebrity death hoaxes and why they proliferate.