Claim:
As part of his arraignment on charges stemming from a grand jury indictment in New York, former president Donald Trump will be handcuffed.
Context
The Manhattan District Attorney's office regularly handcuffs and transports indicted individuals in so-called "perp walks." While the office has done so even in extremely high-profile cases, lawyers for Trump and reporting from other law enforcement sources say the former president will not, or likely would not, be handcuffed by New York authorities.
On March 30, 2023, news first broke that former U.S. President Donald Trump had been indicted by a grand jury convened by the New York County District Attorney's office, also known as the Manhattan District Attorney (DA). The indictment remains sealed at the time of this reporting, but the charges stem, reportedly, from payments made by former Trump lawyer Michael Cohen to adult film star Stormy Daniels on behalf of then-candidate Trump.
A spokesperson for the Manhattan court processing his case announced that the first hearing is scheduled for April 4, 2023. Lawyers for Trump have said the former president will surrender to New York authorities and fly from Mar-a-Lago to New York for the arraignment. What happens next is hard to say with certainty, but such a process typically involves defendants being handcuffed, as described by Insider:
The defendant surrenders at the DA's headquarters in lower Manhattan at a set time on the agreed-upon date and is immediately handed over to the custody of DA investigators — armed peace officers who are often former New York cops. [...]

Once his prints come back, Trump, if he were any other high-profile white-collar perp, would be walked in handcuffs by DA investigators down a courthouse hallway — with the press shouting and filming from behind barricades — to the courtroom.
For the Manhattan DA, even high-profile defendants are typically handcuffed and put on public display for the press. This was the case when Harvey Weinstein surrendered himself to New York Authorities on May 25, 2018, on charges of rape, and it was the case when Steve Bannon turned himself in to the Manhattan DA on Sep. 8, 2022, on charges of money laundering and fraud: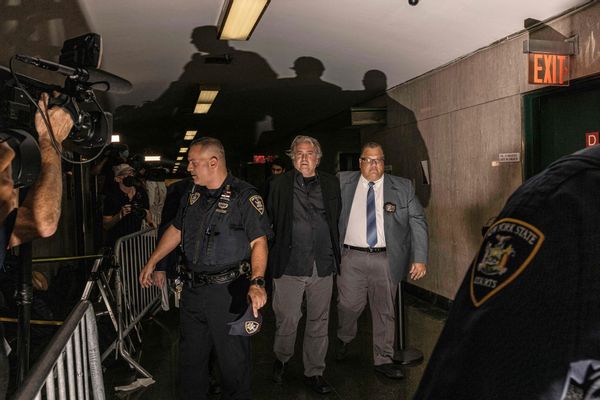 Steve Bannon after surrendering himself to the Manhattan DA on Sep. 8, 2022. (Alex Kent/AFP via Getty Images)
Manhattan DA Alvin Bragg has the discretion to make changes to the process in the case of former President Trump. As reported by the New York Post, Trump attorney Joe Tacopina has stated that an agreement had been reached that he will not be handcuffed, but did not know about a perp walk or mugshot:
"The president will not be put in handcuffs," the attorney also told ABC News' "Good Morning America" — while not ruling out a perp walk or a mugshot.

"I'm sure they'll try to get every ounce of publicity he can from this thing," he said of the Manhattan prosecutors, led by District Attorney Alvin Bragg, behind the historic charges.

"As far as mugshots, perp walk — I'm sure they'll try to make sure they get some joy out of this by parading him."
Handcuffed or not, other experts doubt that there would even be a perp walk. A prosecutor working under former Manhattan DA Cyrus Vance stated that it would be unlikely that Trump is ever cuffed or subjected to a perp walk, telling Insider that: 
Trump could be arraigned without ever spending a moment in custody … "My strong bet, and it's what I would do, is that they not arrest him," said the ex-prosecutor, speaking anonymously because they were not authorized to comment on the case.
The indictment of a former president will be fundamentally different from any previous case. For one thing, the Secret Service will also be accompanying Trump at every step of the process and is likely coordinating with New York authorities about protecting Trump's safety during the arraignment. Former Secret Service Special Agent Bill Pickle told Insider a Trump perp "walk is not going to happen … You're not going to expose him to people who could cause him harm." 
Trump, prior to his indictment, had reportedly told those close to him that he would relish the opportunity for a perp walk, as reported by the New York Times' Maggie Haberman on March 21, 2023:
Behind closed doors at Mar-a-Lago, the former president has told friends and associates that he welcomes the idea of being paraded by the authorities before a throng of reporters and news cameras. He has even mused openly about whether he should smile for the assembled media, and he has pondered how the public would react and is said to have described the potential spectacle as a fun experience.

No one is quite sure whether his remarks are bravado or genuine resignation about what lies ahead.
In sum, experts with knowledge of the Manhattan DA's office, Secret Service, and NYPD have all expressed doubt that Trump will be handcuffed or publicly displayed as part of his arraignment, and Trump's legal team has said that an agreement has been reached that he will not be cuffed. However, such an agreement would go against typical practices and the ultimate authority on these questions lies with Bragg. As such, the claim is "Unproven."