Claim:
Video footage captured Ukrainian President Volodymyr Zelenskyy's "body double" walking behind him in February 2023.
Context
The "body double" is actually Zelenskyy's longtime bodyguard, who has held the position since 2019.
On Feb. 25, 2023, claims began to spread online that Ukrainian President Volodymyr Zelenskyy had a body double. He does not have a body double. The man depicted in the image in question is Maksym Donets, who was appointed head of the president's personal bodyguard team in May 2019, as well as deputy head of Ukraine's department of state protection.
A tweet claimed Polish media had accidentally recorded his body double when they covered U.S. President Joe Biden's trip to Kyiv the previous week. "What am I looking at here?" far-right conspiracy theorist Stew Peters posted on the platform with the photographs.
Both tweets went viral.
Polish tabloid Fakt published a video to its YouTube account about Biden's visit. In the video, you can first see Biden and Zelenskyy, as well as Ukraine's first lady Olena Zelenska, greeting each other outside. 
The video then cuts to the two presidents indoors, walking into the same room depicted in the viral tweets without a body double behind Zelenskyy.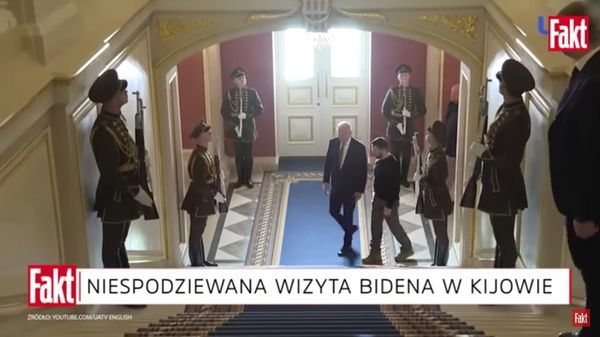 (YouTube)
The next cut shows them walking up the staircase. Donets stays near the bottom, watching Zelenskyy. 
According to Reuters, he was previously the bodyguard for billionaire Ihor Kolomoisky, who made Politico's oligarch index for Ukraine in January 2023.
Donets can be seen in many photographs with Zelenskyy, like when European leaders went to Kyiv in June 2022, which was their first visit since Russia invaded Ukraine earlier that year. 
He was photographed walking behind Zelenskyy, German Chancellor Olaf Scholz, French President Emmanuel Macron, and Italian Prime Minister Mario Draghi: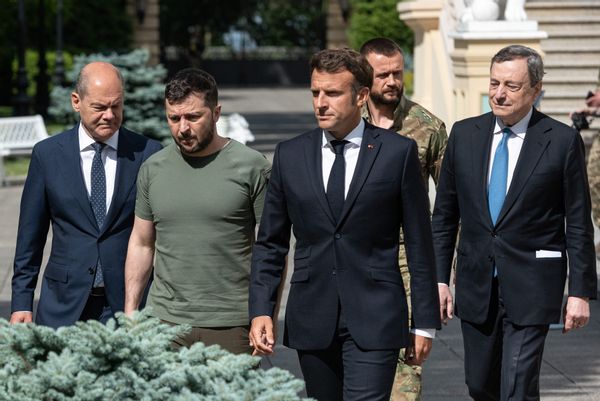 (Alexey Furman/Stringer, Getty Images)
He was also clearly photographed with Zelenskyy in November 2022, when they made a surprise visit to the Ukrainian city of Kherso: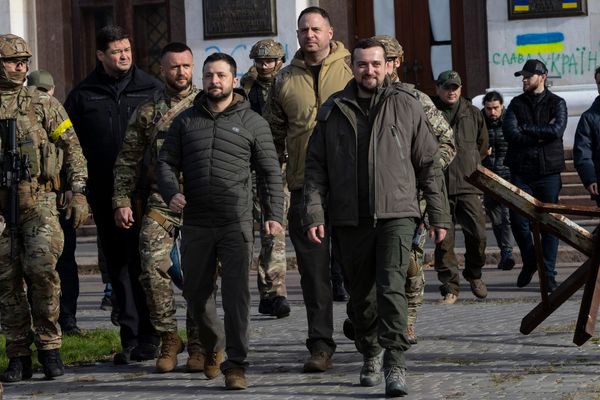 (Paula Bronstein/Stringer, Getty Images)
We've fact-checked other claims about Biden, Melania Trump, and Buffalo Bills football player Damar Hamlin supposedly having body doubles. We found all of those claims to be false, too.