Claim:
A photograph authentically shows an "underwater waterfall" in Mauritius.
Context
The photograph is authentic but the so-called "underwater waterfall" is an optical illusion.
On May 10, 2023, a Twitter user shared a photograph showing an "underwater waterfall" in Mauritius: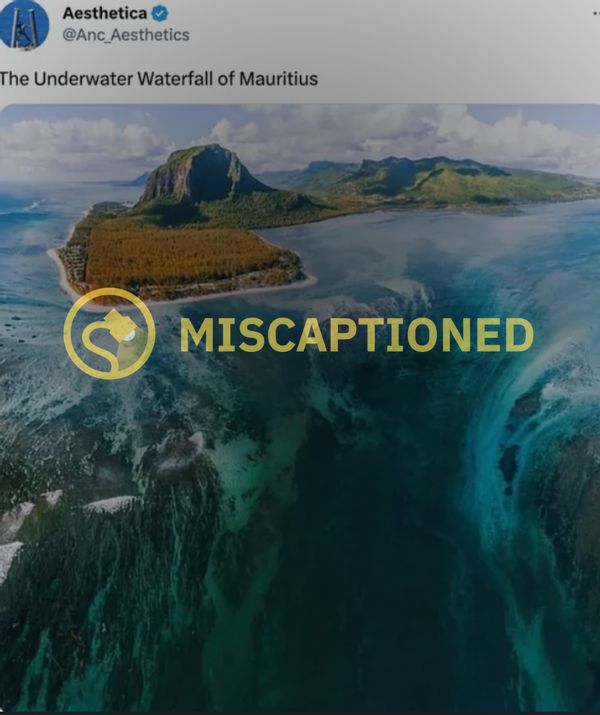 (@Anc_Aesthetics/Twitter)
While the photograph is authentic, the "underwater waterfall" is the result of an optical illusion. 
As explained in a CNN Travel story from August 2019, "Sand and silt on the ocean floor run off in a way that makes it look like they're pouring down a waterfall – or like the entire island is being sucked down a vast drain."
Additionally, an article on travel website Culture Trip provided a detailed explanation on what causes the illusion: 
Mauritius, being a relatively young island, happens to sit on an ocean shelf raised above seabed level. Off this particular coast, a gradual slope is noticed, abruptly ending in a 4000-meter-deep abyssal drop. Thanks to this marine topography, various shades of blue are visible, due to the movement of sand and silt deposits along these slopes. It is this unique harmony of shades which create the optical illusion which has won so many admirers across the world. 
Snopes has fact-checked other claims pertaining to optical illusions, such as this hallway that was supposedly designed to prevent children from running and this arrow that always points to the right.
Given that the photo is real but its caption is based on an optical illusion, we rate the claim as "Miscaptioned."