Claim:
A genuine email message says you've won a $500 gift card for Ulta Beauty.
On Jan. 9, 2023, we reviewed an Ulta Beauty email scam that claimed recipients had won a $500 gift card. This was a phishing scam, and it did not come from Ulta Beauty.
The Ulta Beauty email scam claimed to come from "Ulta Department 74130" via an email address that ended with the domain name, climatekids.net.
"Answer and win a brand new $500 Ulta Beauty gift card," the email read.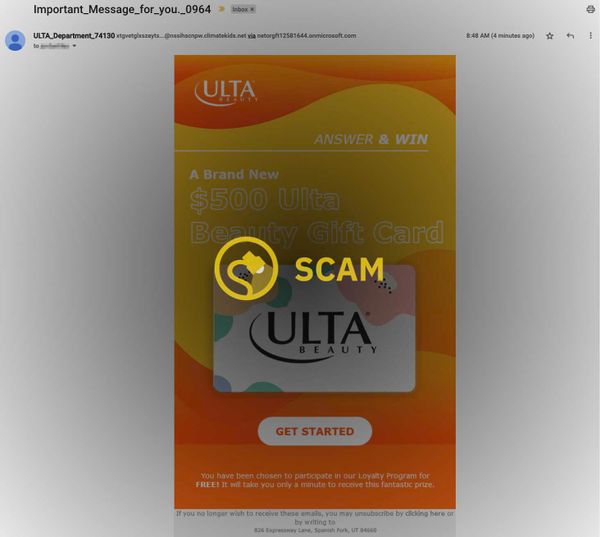 We scanned the link in the scam email with IPQualityScore.com's helpful malicious URL scanner, which readers can use for free. The scan found that the link was "very risky" and contained "suspicious activity."
We visited the link in a safe way and noted that it began on cosmosis.org, then redirected to quinyspike.com. The browser then redirected once more to resonatorbang.com, where we were presented with the fake survey.
The fake survey began, "Congratulations! You've been chosen to receive a brand new $500 Ulta Beauty Gift Card! To claim, simply answer a few quick questions regarding your experience with us. Attention: This survey offer expires today, January 9, 2023."
After the fake survey, we were redirected for the final time to gillydealdays.com, where we were asked to provide our personal information and a credit card number. The credit card number was supposedly needed to pay shipping costs for the $500 gift card.
We strongly advise against providing any such details to websites that readers are unfamiliar with. Always safeguard your personal and financial data when browsing online. Remember that if an offer seems too good to be true, it probably is.
We checked the Whois domain information for the registration of gillydealdays.com. According to the details we found, the website had been registered for the first time ever just four days before on Jan. 5. Brand new websites can often be a sign of a scam, and that's exactly what was happening here.