Claim:
A photograph accurately depicts former U.S. President Donald Trump kissing California Gov. Gavin Newsom on the lips.
Former U.S. President Donald Trump has had a hot-and-cold relationship with California Gov. Gavin Newsom over the years, with the governor being very anti-Trump before the pandemic, followed by an interval of cordiality between the two during the latter years of Trump's presidency.
In an April 2023 interview with Fox News, Trump talked up their relationship, saying, "I used to get along great with him, you know, when I was president. [...] He was always very nice to me. Said the greatest things." 
In response to Trump's comments on Newsom, on April 11, Twitter user Ian Miles Cheong shared a photograph of the two men kissing on the lips, writing, "A better love story than Twilight."
This photograph is not real. We searched in vain for evidence that the photograph is authentic and found that it had appeared nowhere in print or online prior to its sudden emergence on social media. Were it real, the image would have garnered publicity before. Though we don't know who fabricated it, it is clearly a digital creation made with AI software. Among other telltale signs, Trump's hair and both men's skin are overly smooth, particularly around their cheeks, jaws, and necks. Notably, Newsom appears to be sporting an uncharacteristic moustache (image below has been brightened for clarity):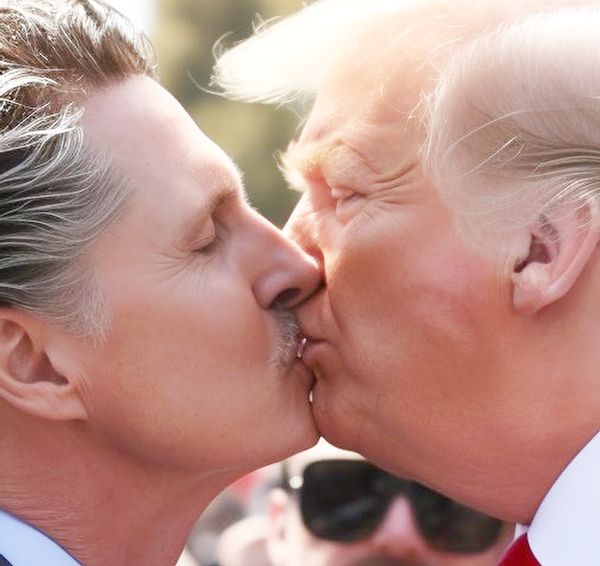 The poster, Ian Miles Cheong, is a right-wing commentator based in Malaysia.