Claim:
A photograph authentically showed former U.S. President Donald Trump arriving in New York on April 3, 2023, for his booking and arraignment on charges related to hush-money payments to Stormy Daniels.
On April 3, 2023, former U.S. President Donald Trump traveled from his Mar-a-Lago estate to New York City to face historic criminal charges related to alleged hush-money payments to a woman with whom he allegedly had a sexual encounter.
With his booking and arraignment set for the following afternoon at the Manhattan criminal courthouse, a Twitter user posted the below-displayed photo of the former president supposedly making his New York arrival. The photo showed Trump flanked by people in suits, presumably Secret Service agents, leading a massive crowd of people down a city street lined with American flags.
"President Trump returns to New York," tweeted @Brick_Suit, with the photo.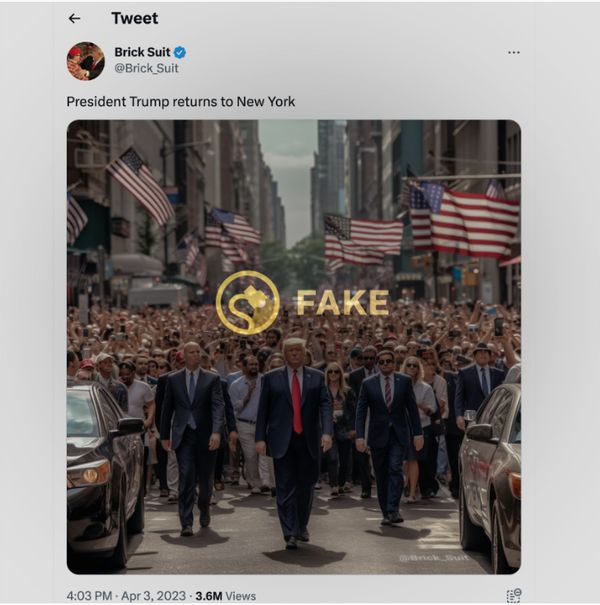 The photo was fake; it was not a genuine documentation of Trump arriving to New York for his booking and arraignment. The Twitter user acknowledged that fact, writing in a reply tweet, "I didn't find this [photo]. I generated it via prompts."
The photo was generated by artificial intelligence (AI), with several telltale signs of computer-generated manipulation. For examples, an area near Trump's lower lip showed another trace of lip; the faces of the presumed Secret Service agents and many crowd members were disfigured; some heads looked more like skulls, and the flags' coloring wasn't consistent. Additionally, the man immediately behind Trump not only had signs of digital doctoring in his face but also his right hand.
This was not the first digitally created photo supposedly documenting the aftermath of the Manhattan District Attorney Office's move to indict Trump on March 30, 2023. Fake photos of U.S. President Joe Biden and Vice President Kamala Harris celebrating the indictment, Trump clashing with law enforcement officers who were supposedly making his arrest, and the former president posing for his jail mugshot also spread on social media.
Given that the photo of Trump leading a crowd was AI-generated — it did not authentically show him arriving in New York on April 3, 2023 — we rate this claim "False."
Getty Image's database of photojournalism included several authentic images of Trump's arrival to New York on April 3, including the one displayed below.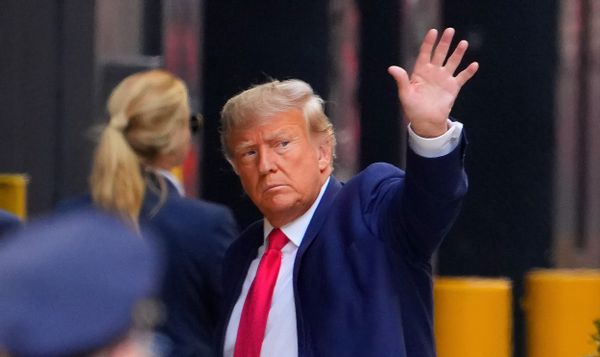 Trump arrived in New York City on April 3, 2023 for his arraignment. (Gotham/GettyImages)