Claim:
Tampax pays "$10,000's" to trans influencer Dylan Mulvaney to promote its products.
On April 9, 2023, a Twitter post claimed, without any evidence, that Tampax paid TikTok influencer Dylan Mulvaney $10,000 and asked women to boycott the tampon brand.       
"Dear Women, Tampax pays this man $10,000's to MOCK YOU. Don't buy Tampax," tweeted @OliLondonTV.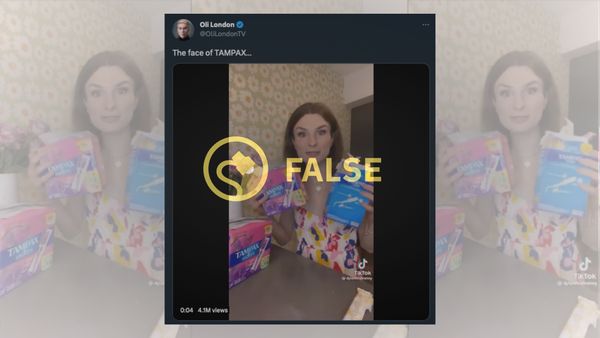 (via @OliLondonTV/Twitter)
In a subsequent tweet, the user posted two images of the trans star, writing, "The face of TAMPAX…" The tweets together generated a lot of response from other Twitter users. Video gaming blog Spiel Times reported that people were disappointed that Mulvaney, who was born male, was promoting female hygiene products.
The claim about the partnership, however, was false.
Responding to comments on Twitter, Tampax denied the claim about the partnership with Mulvaney. "Thanks for getting in touch, the brand wrote in response. "We can confirm that we do not have a sponsorship agreement with Dylan Mulvaney or Jeffrey Marsh."
Although the TikTok star did not immediately respond to the claim about a partnership with Tampax, in a video of Dec. 7, 2022, Mulvaney denied working with the brand and getting any money from the company. The celebrity added that Tampax sent Mulvaney a box of tampons in April 2022 to give to women who needed them.
@dylanmulvaney Day 271- the great tampon debacle of 2022 #trans ♬ original sound - Dylan Mulvaney
The user, @OliLondonTV, did not respond to our request to comment on the denial from Tampax, as of this writing. In previous tweet, the user listed names of companies, including Tampax, saying that Mulvaney was a brand ambassador for them.
Given that the tampon brand publicly denied it was partnering with Mulvaney and that the claimant did not provide any evidence, we rate the claim "False."