Claim:
Viral photos and video show two Missouri state senators, both Republicans, burning books with flamethrowers.
Context
The pictures and video show two Republican state senators incinerating a pile of empty boxes they said symbolized "the woke liberal agenda" at the 2023 St. Charles GOP Freedom Fest. The flamethrowers were auctioned off to attendees.
On or around Sept. 16, 2023, photographs and videos purportedly showing two Republican politicians from Missouri burning a pile of books with flamethrowers incited waves of anger and outrage on social media: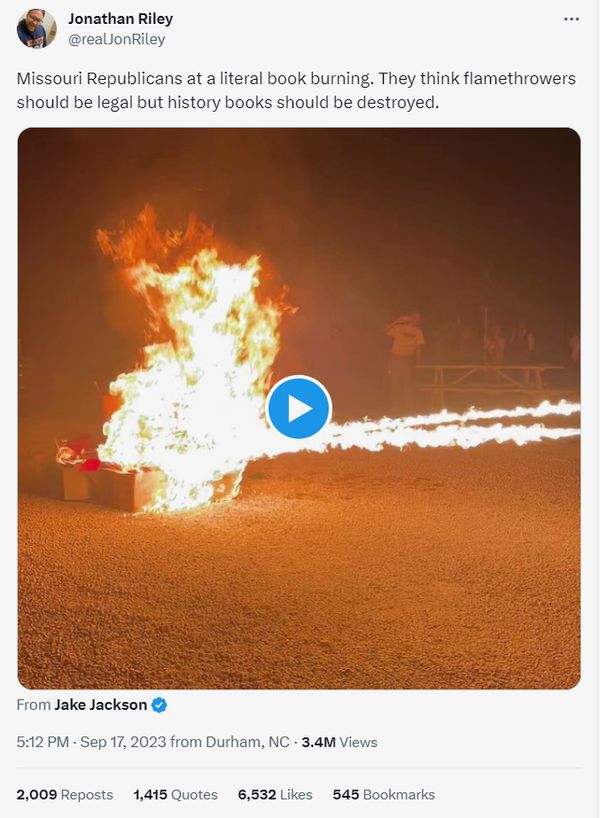 (@realJonRiley/X)
In the video, people can be heard cheering, and someone chants "Let's go, Brandon," which, among Republicans, has become a euphemistic way of saying "Fuck Joe Biden."
"Where they burn books, they will ultimately burn people also"

Two MAGA Republican Missouri State Senators participated in a book burning using flame throwers at an event called the St. Charles County Freedom Fest. pic.twitter.com/fECk8sy8R3

— Republicans against Trump (@RpsAgainstTrump) September 18, 2023
In truth, however, there is no evidence any books were actually burned in this incident, which took place at the St. Charles Republican Central Community's Freedom Fest, held on Sept. 15 at a winery in Defiance, Missouri. Certainly no books were visible in this enlarged screenshot from the video: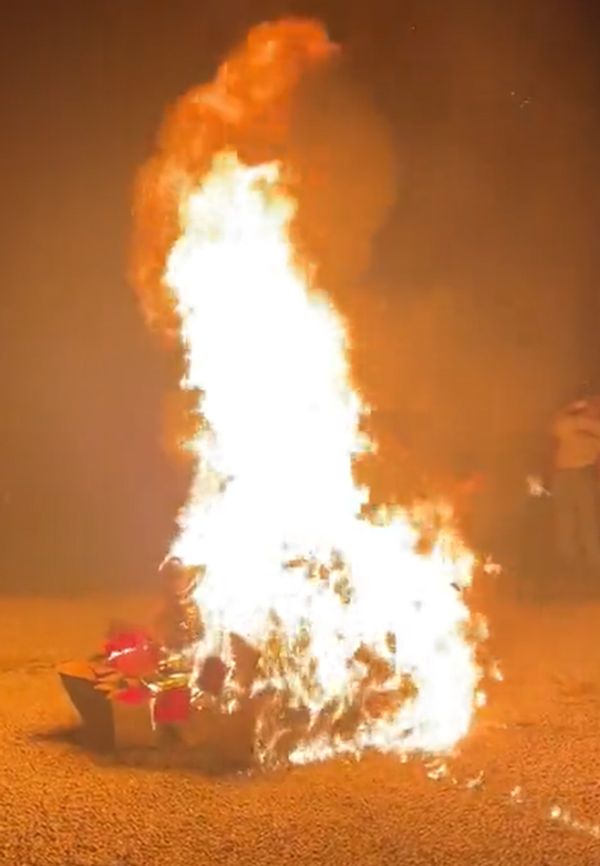 (@realJonRiley/X)
According to the two flamethrower-wielding Missouri state senators who participated in the event, Sens. Bill Eigel and Nick Schroer, the only thing incinerated was a pile of empty boxes meant to represent what they described to as "woke," "liberal," or "leftist" policies. On Sept. 18, Eigel tweeted the following statement, in which he denies that books were burnt even as he warns that he will burn books he regards as "woke, pornographic books ... to try to brainwash our children": 
🚨BREAKING: Eigel responds to accusations of "book burning" with a super awesome flamethrower pic.twitter.com/3CnkHHOvVt

— William Eigel (@BillEigel) September 18, 2023
Eigel Statement on Accusations of "Book Burning" 

ST.CHARLES, MO -- In a video that is being widely circulated of me at the St. Charles County Freedom Fest, I am taking a flamethrower to cardboard boxes representing what I am going to do to the leftist policies and RINO corruption of the Jess City swamp.

But let's be clear, you bring those woke, pornographic books to Missouri schools to try to brainwash our kids, and I'll burn those too -- on the front lawn of the governor's mansion.
The Kansas City Star took note of Eigel's warning in an article headlined "Republican candidate for Missouri governor vows to burn books after viral flamethrower video," stating in part: 
Eigel's remarkable comment promising to burn books comes as he embarks on a campaign for governor attempting to appeal to the staunch right wing of the Missouri Republican Party. Public book burnings typically illustrate extreme censorship related to political, cultural and religious materials. They often invoke historic atrocities such as burning of Jewish texts in Nazi Germany or racist bonfires by the Ku Klux Klan.
For his part, Schroer, in a statement posted on Facebook on Sept. 17, said the he and Eigel were only "burning empty boxes" to "celebrate freedom" in the video: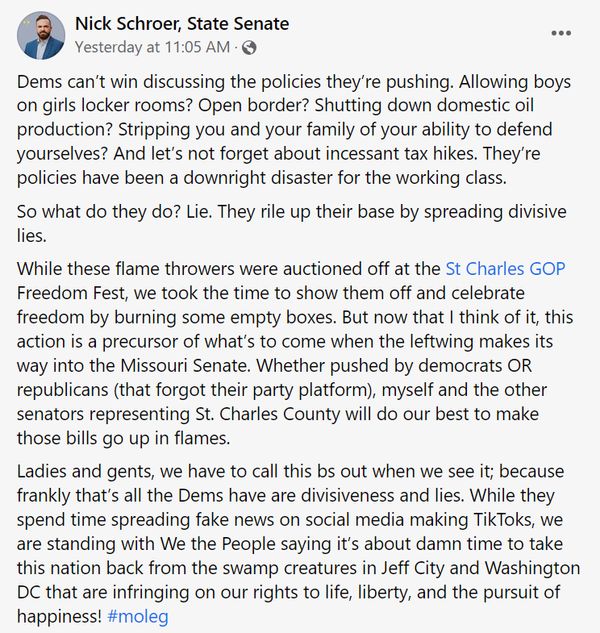 (Nick Schroer, State Senate/Facebook)
Responding to the viral photos and videos, Missouri's House Minority Leader, Democrat Crystal Quade, said, "Watching lawmakers use flamethrowers to intimidate folks they disagree with is a jarring reminder of how they view their jobs as a joke, while real people suffer from their cruelty," the Kansas City Star reported. "We deserve a government that's going to work to solve real problems, not make political stunts."