Claim:
Rihanna wore a "satanic" pentagram symbol on her costume while performing at the Super Bowl LVII halftime show on Feb. 12, 2023.
Rihanna headlined the halftime show at Super Bowl LVII on Feb. 12, 2023, and, in some fringe social media circles, the black waist buckle on her otherwise all-flaming-red jumpsuit was all anyone wanted to talk about. A photo circulated supposedly revealing that the buckle was in the shape of a "satanic" five-pointed star, also known as a pentagram: 
A similar tweet on game day by far-right conspiracy theorist Stew Peters garnered close to one million views, as of this writing: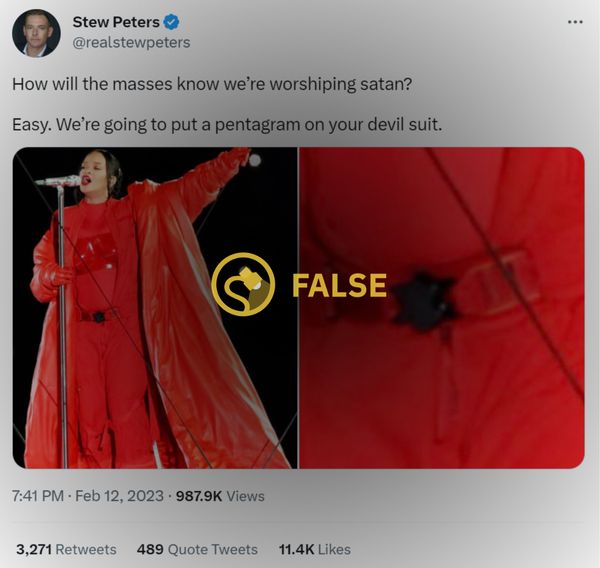 However, as many viewers of the photo quickly pointed out, what some were calling a pentagram — by definition, a five-pointed star — actually appeared to be a six-pointed star (also known as a Star of David). But — call it a trick of lighting, angle, or motion — higher-quality photographs revealed that the alleged "symbol" wasn't a star at all, but rather a waist buckle, as clearly seen in this photo from Getty Images: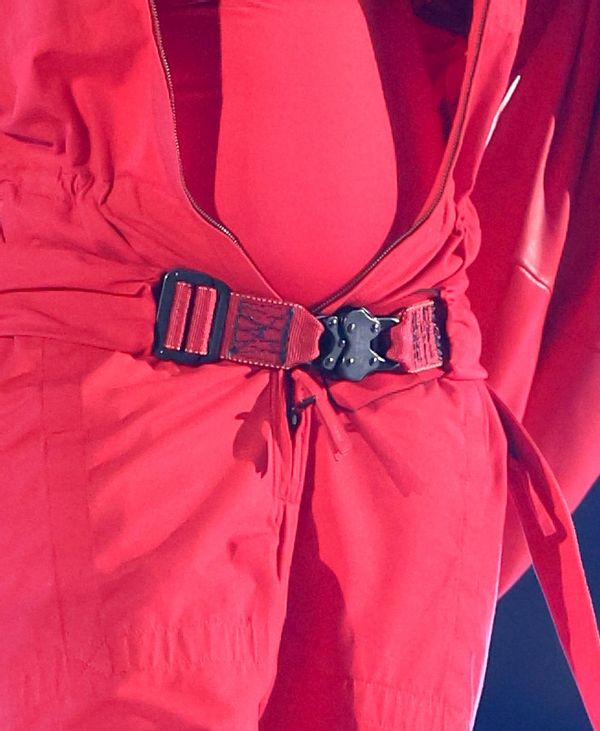 (Gregory Shamus/Getty Images)
Primed, we assume, by the outrage over what U.S. Rep. Marjorie Taylor Greene and others called a "demonic" performance by Sam Smith at the Grammy Awards ceremony one week earlier, some Super Bowl viewers appeared eager to call out what they saw (or wanted others to see) as a trend in "satanic ritualism" in mass entertainment: 
We've seen instances of what might fairly be termed as "satanic panic" issuing from Super Bowl halftime performances before. Lady Gaga's halftime show in 2017 received the same treatment. In 2021, viral social media posts falsely claimed that the word "Satan" was flashed on a backdrop during the Weeknd's performance. 
[See also: Did Elon Musk Sit with Rupert Murdoch at Super Bowl LVII?]