Claim:
OceanGate posted a new job listing during a crisis in which one of its submersibles, carrying five people, went missing in June 2023 en route to the Titanic wreckage.
Context
Although the job listing was still visible on the OceanGate website during the Titanic crisis, it had been posted long before the fatal expedition.
In June 2023, numerous social media users and websites claimed that the exploration company OceanGate posted a new job listing during a submersible crisis in June 2023 that ended in the deaths of five people who were trying to visit the Titanic wreckage in the North Atlantic. An OceanGate job listing referenced by these sources did exist and was viewable on OceanGate's website throughout the search for the missing submersible (though it was no longer accessible as of June 26).
However, it was not a newly posted listing. Thanks to Wayback Machine, a digital archive, we were able to see that the job listing was available online at least from the beginning of August 2020. The last snapshot of OceanGate's website with the job listing was captured on June 22, 2023, before the site was taken down. Authorities also announced the end of rescue efforts that day for the missing sub after they found some of its debris on the ocean floor.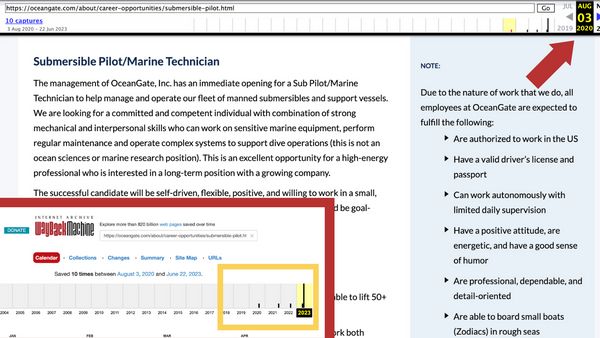 (Wayback Machine screenshots)
Since the beginning of the Titanic submersible crisis, many false rumors circulated on social media.
Some social media users falsely claimed that singer Celine Dion's song "My Heart Will Go On" from the 1997 epic film "Titanic" hit number 12 on the Billboard 100 charts and got more than 7 million streams on Spotify in the week after the Titan submersible event. 
Another false rumor we fact checked, claimed that a passenger aboard the OceanGate submersible that imploded in June 2023, Shahzada Dawood, was vice chairman of the World Economic Forum.