Claim:
Photograph authentically shows a line outside First Republic Bank on the morning of April 28, 2023.
On April 28, a Twitter user shared a photograph that purportedly showed a long queue of people waiting outside a First Republic Bank that morning, amid news that the bank was failing.
"Can anyone confirm if this was taken outside of $FRC First Republic Bank this morning????," the tweeter asked.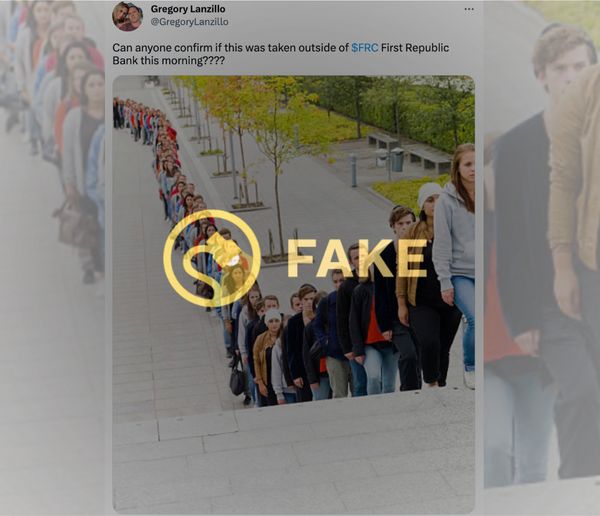 (Image Via @GregoryLanzillo/Twitter)
This was not an authentic photograph of people standing in a line outside a branch of First Republic Bank.
A reverse image search on Google showed that it was a stock photo that had previously appeared on other websites, including on a Purdue University article in September 2016. The image also featured on Twitter in October 2021, in this May 2022 piece on teachers and toilets and on an undated article about college admission waitlist. Additionally, some people in the photo were repeated throughout the line, clearly showing it was digitally created.
Snopes reached out to the tweeter who posted photograph and asked whether the user stood by their claim, but we have not heard yet. We will update the report when – and if – we get a response. 
Reports and claims about First Republic Bank surfaced soon after it became public that the bank was struggling. Panicky depositors at First Republic Bank withdrew more than $100 billion out of the bank, fearing another bank failure after the collapse of Silicon Valley Bank and Signature Bank in March 2023.
On May 1, 2023, the U.S. regulators seized First Republic and promptly sold all of its deposits and most of its assets to JPMorgan Chase Bank.
Snopes fact-checked a number of related claims after the collapse of Silicon Valley Bank. One was about a photograph of "private jets" owned by bank CEOs asking "to get bought out by Warren Buffett," another held that 15 banks failed during former U.S. President Donald Trump's term, and another posited that "The Simpsons" predicted the collapse of Silicon Valley Bank.
Given that the photo, above, was not of the people standing outside First Republic Bank, we rate the claim "False."