Claim:
Linda Yaccarino, named as Twitter's new CEO in May 2023, has worked with both the World Economic Forum (WEF) and the Biden administration.
On May 12, 2023, Twitter's current CEO, Elon Musk, named Linda Yaccarino, an NBCUniversal executive, as the new CEO of the social media platform. "I am excited to welcome Linda Yaccarino as the new CEO of Twitter!" Musk wrote on Twitter, adding that the new CEO would focus "primarily on business operations."
Back in December 2022, Musk had announced he would step down as the CEO of the company when he found someone "foolish enough to take the job." 
Even before Musk's official announcement, rumors and reports about Yaccarino's new role had been circulating in the news and on social media. Some Twitter users condemned Musk for choosing Yaccarino, alleging she had ties to the World Economic Forum (WEF), and to the Biden administration — specifically, that she had helped promote a COVID-19 vaccine program for the latter. These claims are true.
However, the complaints about Yaccarino took on a conspiratorial cast as some users further asserted that references to her participation in the WEF had suddenly and mysteriously been removed from the WEF's website, and references to the WEF had suddenly and mysteriously been removed from Yaccarino's LinkedIn page.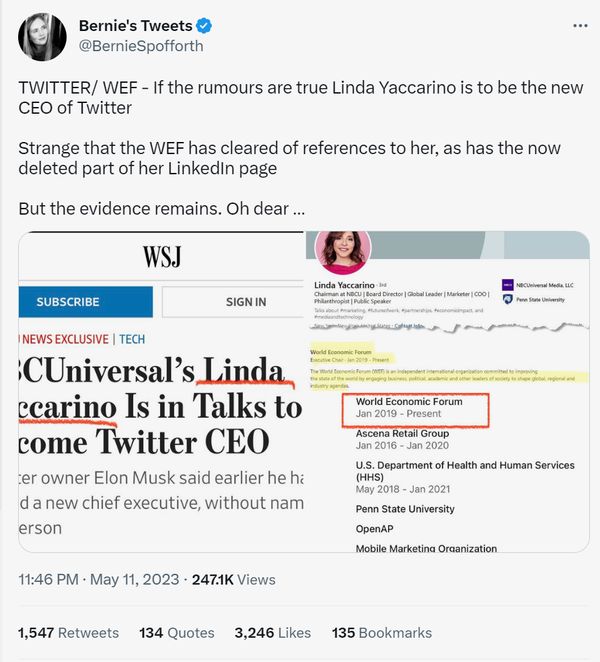 (@BernieSpotforth/Twitter)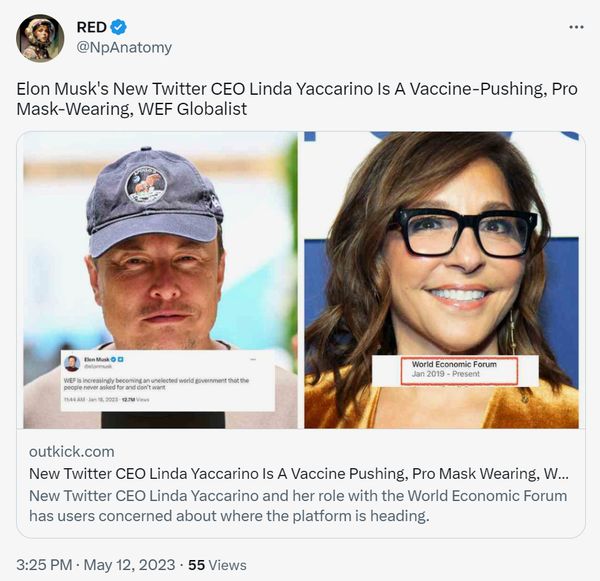 (@NpAnatomy/Twitter)
However, Snopes found that, as of this writing, the WEF website does, in fact, list Yaccarino as a member, and her LinkedIn profile does, in fact, list her participation in the WEF. (Yaccarino serves as the chair of WEF's Future of Work taskforce as well as a member of the WEF's Media, Entertainment and Culture Industry Governors Steering Committee.)
The WEF holds a famous annual meeting in Davos, Switzerland, that draws heads of state, business executives, celebrities, and media figures. It has been represented as a conspiratorial power hub of the "global elite" by some right-leaning political figures and media outlets. The organization has been the target of a number of conspiracy theories from people "who believe the forum involves a group of elites manipulating global events for their own benefit," The Associated Press reported.
Snopes has fact-checked some of those conspiracy theories, including claims that the the organization called for the slaughter of millions of pets to save the climate and that the organization hired unvaccinated pilots to fly elites to Davos.
Apart from the WEF, as chair of an organization called the Advertising Council, a nonprofit that works on public service announcements, Yaccarino worked with the Biden White House to help create a coronavirus vaccination campaign, called COVID-19 Vaccine Education Initiative, "It's Up To You."
It is noteworthy that then-U.S. President Donald Trump appointed her to the President's Council on Sports, Fitness and Nutrition in 2018 for a two-year term and renewed her term in December 2020.