Claim:
Photograph authentically shows a rock in Finland weighing 500,000 kilograms (1.1 million pounds), balanced on top of another rock for 11,000 years.
What's True
The photograph is authentic. According to reputable sources, the approximate age of the massive Kummakivi Balancing Rock is 11,500 years. However ...
What's Undetermined
We were not able to verify that its weight is approximately 500,000 kilograms (1.1 million pounds).
For years, people have marveled at the sight of a massive rock resting on a smaller rock in Kummakivi, Ruokolahti, Finland. In 2022, several Reddit accounts posted a picture of this rock, known as Kummakivi Balancing Rock. Some of these posts, including this one from February 2023, claimed that the Kummakivi rock weighs 500,000 kg (1.1 million pounds) and "has been balancing on top of another rock for 11,000 years."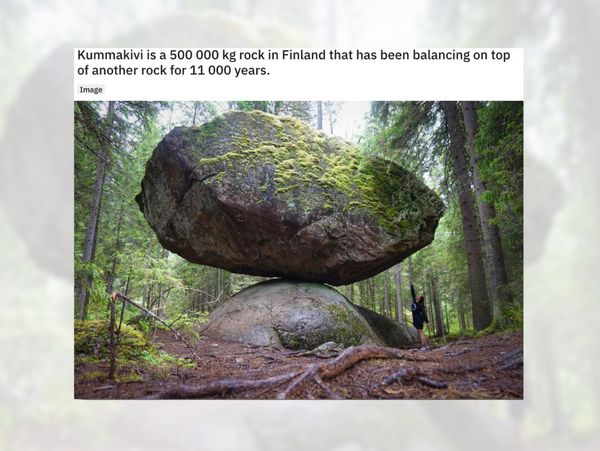 (Image Via r/Damnthatsinteresting/Reddit)
Such claims about so-called "precariously balanced rocks" (PBRs) are not new, though. Various social media accounts and several online portals have discussed different aspects of the Kummakivi rock. Some articles refer to Finnish folklore attributing the rock's position "to giants or trolls who are said to dwell in rocky landscapes and throw boulders around."
Science, however, explains in less fanciful terms how one rock comes to rest on another.
Precariously balanced rocks "form as blocks preserved on cliffs, or when softer rocks erode and leave the harder rocks behind," noted an October 2020 article from Imperial College London. "They can also form when landslides or retreating glaciers deposit them in strange positions."
According to the aforementioned social media and online portals, the estimated age of the rock varies between 8,000 and 12,000 years. Saimaa Geopark in Finland, which was awarded Global Geopark status by UNICEF in 2021, stated that the rock is 11,500 years old and approximately 7 meters (about 23 feet) long.
(According to UNESCO, "Global Geoparks are single, unified geographical areas where sites and landscapes of international geological significance are managed with a holistic concept of protection, education and sustainable development." The designation is considered similar to UNESCO World Heritage sites.)
While some social media posts and online sources claim that the weight of Kummakivi rock is 500,000 kg (approximately 1.1 million pounds), we could not verify this information.
As noted above, Kummakivi is not the only rock in such a peculiar situation. There are other examples of PBRs in different places.
Photos of such PBRs can be found on several websites, like this one about the Balanced Rock in Colorado Springs, Colorado. Additionally, in 2017, the Lonely Planet travel guide published an article about the "10 nerve-racking rocks." Similarly, in October 2013, the BBC featured a photo of a PBR in Brittany, France, sent by a reader under the headline "Your pictures: Resting."
In addition to being tourist attractions, these PBRs have drawn the interest of researchers, including those at Imperial College London. They suggested that such rocks could help in forecasting earthquakes. "By tapping into ancient geological data locked within Californian PBRs, Imperial College London researchers have broken ground on a new technique to boost the precision of hazard estimates for large earthquakes by up to 49 per cent," noted the article from October 2020 on the university's website.
Considering that reputable sources report the age of the Kummakivi rock to be around 11,000 years but we were unable to verify the estimated weight of the rock, we rate the claim as "Mixture."