Claim:
American singer Jewel declined an invitation to perform at King Charles III's May 2023 coronation, saying, "He's got enough big jewels that his family stole from India, he doesn't need me."
Since February 2023, a quote attributed to American singer Jewel has gone viral in which she allegedly stated why she was declining an invitation to King Charles III's coronation on May 6, 2023. According to numerous social media posts, Jewel said, "He's got enough big jewels that his family stole from India, he doesn't need me." 
The above scenario was made up, and Jewel herself has debunked it. There was no available evidence of her being invited to the coronation, and, therefore, there was no record of her turning down an alleged invite in any form — much less with the alleged comment.
We searched for the quote on her social media accounts, as well as in news stories, and found nothing to confirm the claim. Had Jewel actually declined an invite with the alleged statement, that event would have been covered by reputable news outlets. For all of those reasons, we rated this claim "False."
The original author of the fabricated quote was unknown.
From her own verified Twitter account, Jewel tweeted a response to the rumor on March 4, 2023. She wrote, "So honored to be part of fake news finally."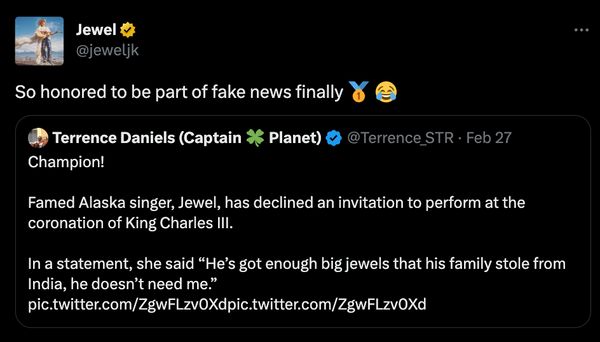 (Screenshot via Twitter/Jeweljk)
(We should note that her Twitter handle has a yellow checkmark, indicating that it belongs to an "official organization" that represents Jewel. It was possible that somebody else literally posted the tweet on her behalf.)
The false rumor about Jewel spread amid reports that top performers were declining to perform at Charles' coronation, including Adele, Harry Styles, and more. 
In recent years, the royal family's colonial history has faced scrutiny, particularly in regard to the famed Koh-i-noor diamond that passed through many hands in the Indian subcontinent before being signed over to the British with the annexation of Punjab. The diamond became a special possession of Queen Victoria and was worn by Queen Elizabeth II at her coronation in 1953. The diamond has become the focus of anti-colonial anger, with India demanding it back. For Charles' coronation in 2023, however, Queen Consort Camilla will reportedly not wear the diamond.