Claim:
A photograph authentically shows a skyscraper-sized ad with the text, "We're putting cum inside M&M's."
A supposed photograph of an M&M's advertisement painted on the side of a large city building with what appears to be the announcement, "We're putting cum inside M&M's," frequently goes viral online:
The picture wasn't authentic. It was a manipulated image of a real ad announcing the launch of a new line of M&M's with caramel that appeared in New York City in May 2017. The building in question is located at Eighth Avenue and West 34th Street in Manhattan, and the ad actually read: "We're Putting Caramel Inside M&M's":
The painted advertisement had three distinct phases (read the small quoted text below), according to a creative director involved in the campaign: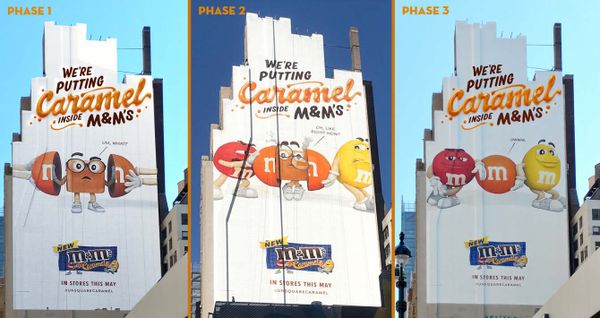 (jessicarello.com)
Several images taken from other angles confirmed the cum-free nature of the actual ad, as it appeared in 2017:
Because the image was an altered version of a real photograph displaying different text, we have rated this claim "False."