Claim:
U.S. Sen. Rand Paul deleted a tweet containing a photograph of him with a student wearing a potentially suggestive, gun-covered, American-flag-themed T-shirt sold under the name "Guns and 69."
What's True
It's true that Rand Paul deleted a tweet of himself standing beside a young person wearing such a shirt. However ...
What's False
The T-shirt was never described or sold as a "Guns and 69" product until after Paul tweeted the image.
On March 18, 2023, U.S. Sen. Rand Paul tweeted a photograph of himself and a student who wore a T-shirt that displayed an American flag symbol made out of firearm images. In the tweet, Paul expressed disbelief that the student was disciplined for wearing the shirt in Utah: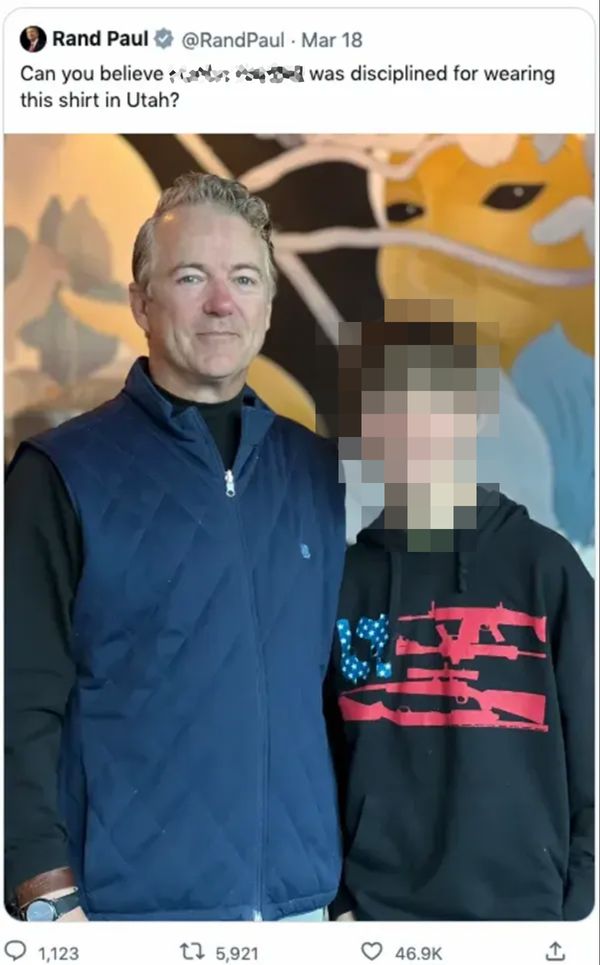 *minor's name/face blurred for privacy
This fact check has two elements. First: the question of the original tweet's authenticity and the assertion that Paul deleted it. This element is true: Archived records captured the tweet, but as of March 20, 2023, the tweet had been deleted. 
The second element is the assertion that the name of the T-shirt pictured in the image was, as several online commenters claimed, "Guns and 69." Jezebel Editor-in-Chief Laura Bassett pointed out that the positioning of the guns on the shirt resembles the number 69, an allusion to an oral sex act.
"The pistols literally make a 6 and 9 you guys lol. Just google the shirt, I didn't name it myself," she added. "It's literally advertised as the 'Guns and 69 shirt' by the maker selling it," another commenter wrote in response. 
This element of the fact check is false. Snopes has yet to identify a single online store selling a "Guns and 69" T-shirt with this design that existed prior to Rand's viral and now deleted tweet. Several stores sell that shirt with that description presently, but they all appear to be opportunistic reactions to the viral tweet.
The design itself, however, dates back to at least 2014. The shirt's name, at that time, was "Freedom Flag." Other retailers selling products with this image on it prior to 2023 also refer to it by that name. These versions of the product make no reference to simultaneous mutual oral sex acts.
Snopes reached out to Paul for clarification on why he deleted that Tweet, but did not immediately receive a response. We will update our story if we receive an answer. 
Because Paul deleted the tweet, but because the shirt was not called "Guns and 69" at the time of the tweet, we rate the truth of this claim as a "Mixture."