Claim:
George Floyd made an offensive comment about trans people on Twitter in 2011.
We have encountered a number of incorrect and misleading rumors over the years about George Floyd, a Black man killed in a police encounter in 2020. The latest one involves an offensive statement he allegedly made on Twitter regarding trans people. 
According to a screenshot making the rounds attributed to a Twitter account that claims to be Floyd's (@BigFloyd73), he allegedly tweeted in 2011: "These trans folk straight up fuked in they head [sic]."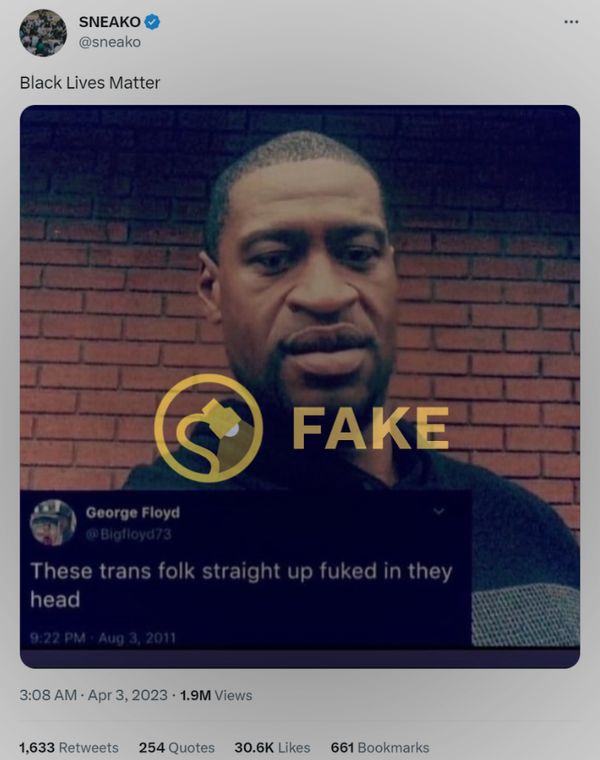 The screenshot does not show a tweet from an account that was ever owned by George Floyd. The account's bio indicates it was created in July 2022. The real Floyd died on May 25, 2020, in Minneapolis after a police officer knelt on his neck for about nine minutes as he struggled to breathe. 
It's impossible for the tweet to be correctly attributed to Floyd, since he died years before the impersonator account on which it appeared even existed.
That same account appeared to acknowledge being the original source of the screenshot in another tweet, saying "yeah I said dis and? [sic]"
Oftentimes, rumors surrounding victims of police brutality go viral, particularly because they seek to discredit the victims, or in this particular case, pit vulnerable groups against one another. We put together a guide on racial propaganda here. 
But this account does not (and never did) belong to Floyd, nor do we have any evidence that he ever made such a statement. We thus rate this as "False."