Claim:
In May 2023, a tweeted image authentically showed an advertisement for the 4thePURE dating website featuring former National Security Adviser Michael Flynn.
On May 14, 2023, a Twitter user shared a post claiming that former National Security Adviser and U.S. Army Gen. Michael Flynn was promoting a dating website where the "unvaccinated" could meet.
"Michael Flynn is advertising a dating site 'where the Covid-19 unvaccinated meet,'" the tweeter wrote. "The cost to join is $2500."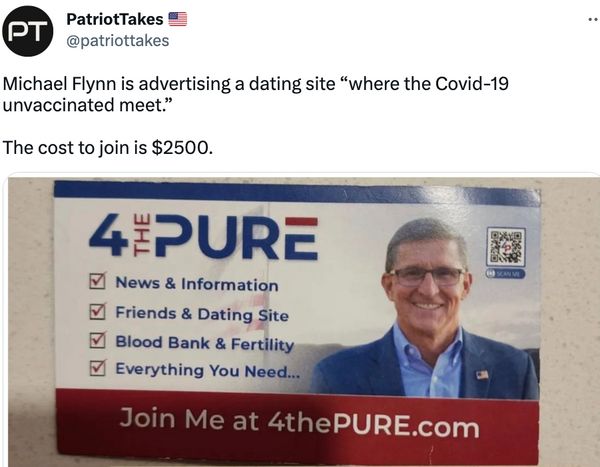 (Image Via @patriottakes/Twitter)
We found a website at the URL 4thepure.com which does indeed feature a video showing Flynn, who was former U.S. President Donald Trump's first national security adviser, promoting the dating (and networking) website. (Flynn was forced to resign as national security adviser for lying to the former U.S. vice president and the FBI about his contacts with Russia.)
"4thePure is an online community meant to connect like-minded individuals who courageously stood against the COVID-19 jab campaign," Flynn said in the video. "Our program will be used for news updates, friendships, dating and business networking."
The website's account on Twitter also shared the video of Flynn, who was listed as a "Founding Member and the President of 4thePURE Advisory Board." On its Truth Social account, 4thePURE shared what it claimed to be a letter from Flynn promoting the website.
The fee for one lifetime membership for 4thePURE is indeed $2,500, with a note below the amount saying "Get 50% Off Extended - Today Only."
4thePURE described itself as "an online community of health-conscious, COVID-19 unvaccinated people who can find curated news, important health information, like-minded friendships, search for a date, find quality service providers, blood donors, fertility options, jobs/resumes, events, retreats, conferences, and seminars with some of the biggest experts in the world." 
Though we have found no evidence to suggest that the ad and video are inauthentic, Snopes is still in the process of trying to confirm Flynn's direct participation in them. We have reached out to Flynn for comment and will update this fact check if and when we receive a response. For now, we rate the claim "Research In Progress."