Claim:
A photo shows Jeffrey Epstein and Ted Kaczynski attending the same summer camp in 1967.
Following the death of Ted Kaczynski — the man dubbed the "Unabomber" who carried out a mail-bombing campaign from the 1970s to the 1990s — myriad claims about his life and connections appeared in social media. Among those was the claim that a viral picture shows Kaczynski with the late financier and sex offender Jeffrey Epstein posing together for a group shot take when they were teenagers:
The photo has a watermark on one corner that says "Interlochen" and is labeled "High School Cabin 1." From this information, it is easy to find the source photo in a SmugMug photo library run by the Interlochen Center for the Arts. Since the 1920s, this nonprofit has run an exclusive summer arts camp for children up through the age of high school. 
Epstein did, indeed, attend the Interlochen Arts Camp in 1967. As reported by the Daily Beast, he remained a financial supporter of the camp until 2003, and even had a cabin — the "Epstein Scholarship Lodge" —  named after him: 
Katharine Laidlaw, Interlochen's vice president of strategic communications and engagement, told The Daily Beast he attended Interlochen's "National Music Camp" in 1967. His course of study was Bassoon/Orchestra/Radio, Laidlaw said.

Laidlaw said Epstein is no longer an Interlochen donor, and that his last gift to the school was in 2003. "After the administration learned of his conviction, Interlochen discontinued contact with Mr. Epstein and removed all donor recognition with his name," Laidlaw said in an email, referring to Epstein's 2007 plea to soliciting underage girls in Florida.
Viral tweets allege that the individual in the middle back row of this same photograph is Kaczynski. There is no evidence, however, that Kaczynski, who is 11 years older than Epstein, ever attended this or any other summer music camp. 
While Kaczynski was a talented musician as a young boy, according to his younger brother's memoir, there is no logical scenario in which Kaczynski, who graduated from high school early in 1958, would be part of a high school-aged summer camp cabin nine years later at age 26, the same year he began teaching math at Berkeley.  
To that point, the individual identified as Kaczynski is decidedly younger looking than actual photos of Kaczynski taken in both 1966 and 1968: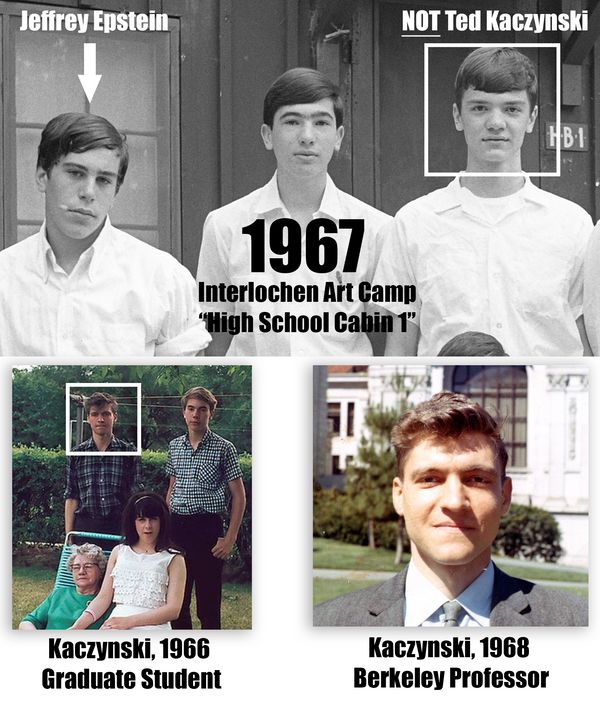 1967 is an unlikely year for Kaczynski to be exploring music — this was the year Kaczynski finished his mathematics doctoral dissertation, "Boundary Functions," at the University of Michigan and began a short-lived career as a mathematics professor at Berkeley. He quit academia in 1969 and moved into a rural, self-made cabin in Montana by 1971 — the location from which he orchestrated his bombing campaigns until his arrest in 1995. 
Because Epstein and Kaczynski are not the same age, because the individual identified as Kaczynski in the Interlochen cabin photo does not match photos of him from the same time period, and because there is no evidence that Kaczynski attended Interlochen, the assertion that the photo contains both Epstein and Kaczynski is false. The photo, instead, shows Epstein and other boys of the same age in 1967.