Claim:
In a tweet critical of the movie "The Whale," in which actor Brendan Fraser wore a prosthetic fat suit, the beauty products brand Dove said, "Stop giving fat suits awards!! We want better representation in Hollywood."
On March 13, 2023, one day after the Academy Award for best actor was awarded to "The Whale" star Brendan Fraser, who wore a prosthetic "fat suit" to play the obese main character, a Twitter account apparently associated with the beauty products brand Dove tweeted critically of the award, saying,"Stop giving fat suits awards!! We want better representation in Hollywood. #LetsChangeBeauty."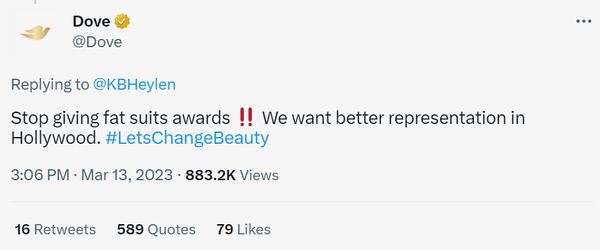 (Twitter)
Snopes verified that the tweet, issued by the official Dove account, was authentic. It was in reply to a tweet from another account that has since restricted who is allowed to view its content, but a copy of the tweet still viewable via Google Cache showed it said the following: "So disappointing that The Whale won the Oscar for best hair and makeup. Fat suits are harmful - they are not your opportunity to win awards. Our identity is not your costume. Cast fat actors to play fat characters. #TheWhale #fatphobia #fatsuit #Oscars."
The original tweet and Dove's reply tapped into an already roiling controversy over the appropriateness of casting a non-obese actor wearing a fat suit for the role instead giving work to an actor whose body type actually matches that of the character. The film was also criticized for what some viewers felt was a fat-shaming preoccupation with the main character's body. Dove's comments were in line with the brand's previously expressed support for organizations seeking to end body-size discrimination. To date, there has been no follow-up from the account regarding the tweet.
Snopes has reached out to Dove's public relations team for comment and will update this article should we receive more information.