Claim:
In May 2023, a real poster circulated online identifying former U.S. President Donald Trump as a "registered sex offender."
On May 10, 2023, a Twitter user shared an image of a poster labeling former U.S. President Donald Trump as a "sex offender."
"If he were anyone else this would be real," wrote @mattgaetz4head, whose profile included the sly disclaimer, "Many people are saying this is Parody." The image included that user's handle in faint lettering at the bottom.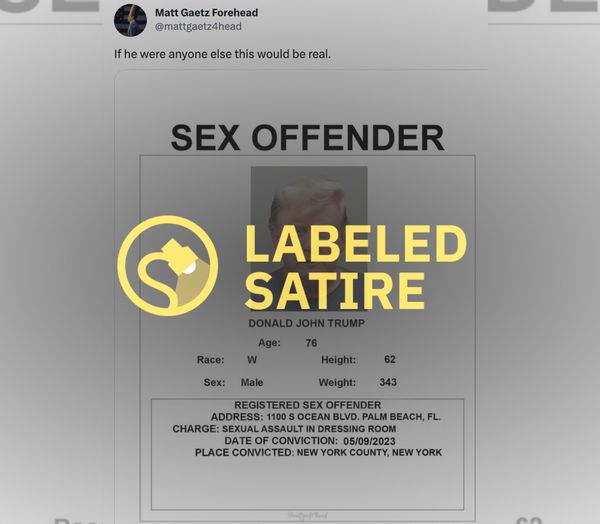 (Image Via @mattgaetz4head/Twitter)
Some other tweeters shared the image subsequently, on May 10 and May 11, respectively. In some cases, the label "SATIRE" had been added toward the bottom. We also found posts on Facebook sharing the same image.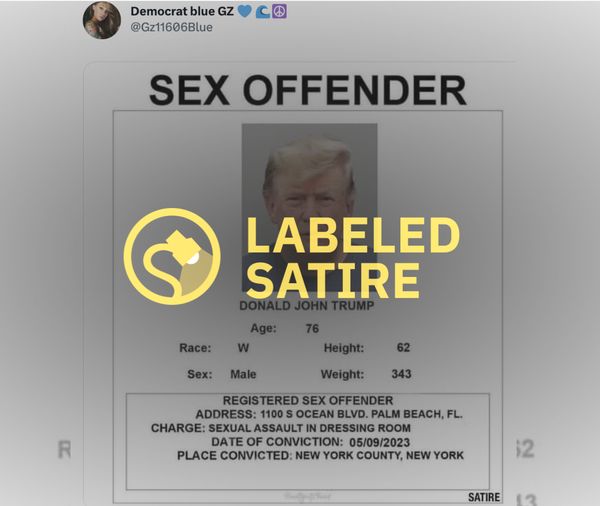 (Image Via @Gz11606Blue/Twitter)
We reached out to the Twitter account that posted the earliest known instance of the image on May 10, asking if that user created it. We had not heard by back publication time. In any case, the poster is not real, nor is it true that Trump is a registered sex offender.
On May 9, 2023, a New York jury found Trump liable for defamation against writer E. Jean Carroll, who had accused him of sexually assaulting her in the mid-1990s. The jury awarded her $5 million in damages for both the sexual abuse and defamation. However, they did not hold Trump liable for rape.
However, it is important to note that Trump was not found guilty of a crime in that trial, nor required to register as a sex offender. As Snopes pointed out in a related story, terms like "found guilty" and "convicted" are used in criminal cases, whereas Carroll's case focused on defamation and was a civil proceeding.
Snopes previously debunked other viral images falsely claiming to show an arrest mugshot of Trump. 
For background, here is why we sometimes write about satire/humor.