Claim:
In January 2019, Dolly Parton announced she is recording songs for a new album with the heavy metal band Slipknot.
In early 2023, word spread on social media that country singer-songwriter Dolly Parton had announced she would record a new album with heavy metal band Slipknot. Some found the rumor preposterous, while others expressed enthusiasm for the idea of the musical pairing. Still others laughed it off as joke — and rightly so.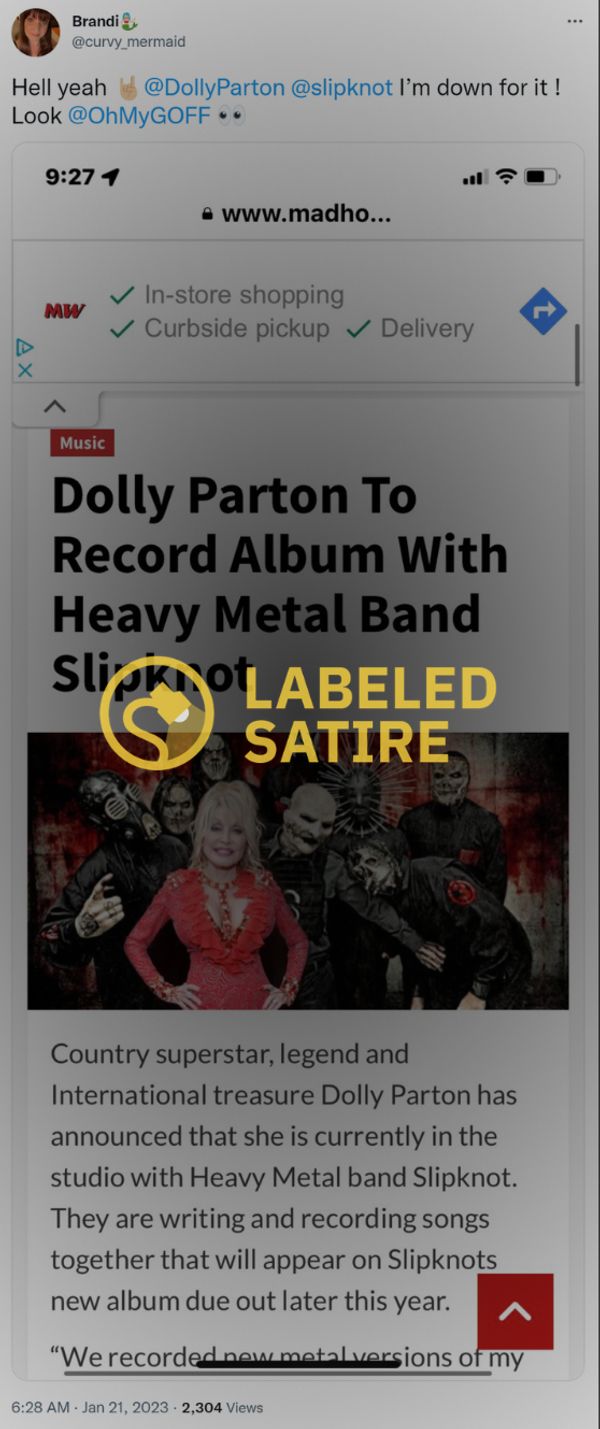 (Twitter screenshot)
The claim originated with a satirical website called Madhouse Magazine, which bills itself as "The greatest rock n roll comedy magazine in the world!" A disclaimer on the website's About Us page adds, "We bring you a twisted satirical view of the music and entertainment world."
Madhouse published the article entitled "Dolly Parton To Record Album With Heavy Metal Band Slipknot" in mid-January. It read, in part: 
Country superstar, legend and International treasure Dolly Parton has announced that she is currently in the studio with Heavy Metal band Slipknot.  They are writing and recording songs together that will appear on Slipknots new album due out later this year. 

"We recorded new metal versions of my songs, 'Jolene' and '9 to 5'" said Dolly. "Then we recorded new versions of the Slipknot songs 'Wait and Bleed' and 'Pulse Of The Maggots'. They are such nice boys and I had so much fun recording and writing with them. They are very talented, I just love them, they are my new favorite band."
For background, here is why we sometimes write about satire/humor.