Claim:
A photograph authentically shows DeSantis standing behind a podium with a sign that reads "LOWER AGE OF CONSENT."
On May 3, 2023, a Twitter user tweeted a photograph that purportedly showed Florida Gov. Ron DeSantis standing behind a podium with a sign that read "LOWER AGE OF CONSENT."
"man he is really getting desperate to halt his slide in the polls," the tweeter wrote.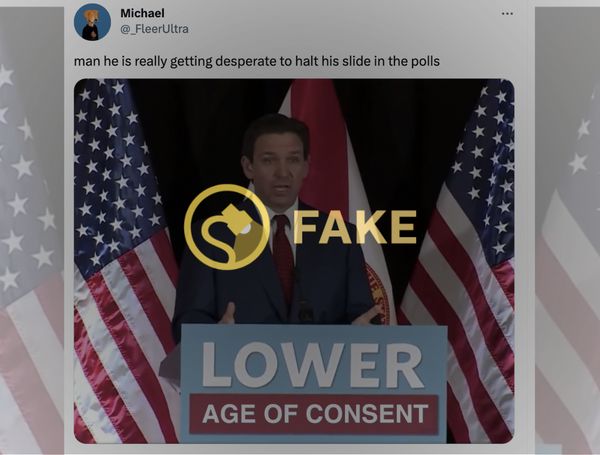 (Image Via @_FleerUltra/Twitter)
While the photograph of DeSantis with flags behind him and a podium in front him is real, the message on the podium was digitally edited to read "LOWER AGE OF CONSENT." The actual sign on the podium was "LOWER DRUG PRICES" as this post on Twitter showed: 
This photo was from a news conference on May 3. Another source, Fox News, also showed DeSantis in the same clothing and in the exact same setting. An image search on Google did not return any such photo with the sign on lowering the age of consent. It was clearly altered.
We reached out to the Twitter user, who had doubled down on the claim in subsequent replies to other people on Twitter, for comment. One of those replies said, "it's 100% real." We will update the report when – and if – we receive a response.
DeSantis is widely expected to officially announce he's running for president in 2024. A CBS News-YouGov poll from May 1 showed DeSantis trailing former U.S. President Donald Trump, his main rival for the GOP nomination, by 36 points.
Digitally altered or false messages on real photographs of politicians and celebrities are not uncommon online. Snopes has previously fact-checked some of those related to DeSantis. We fact-checked a claim about him allegedly saying leadership is about "fooling the voters" and another one to the effect that former U.S. presidential candidate and Democrat Hillary Clinton had endorsed DeSantis, a Republican.
Given that the photo was digitally altered to show a nonexistent sign, we rate the claim as "False."