Claim:
The daughter of the judge assigned to the hush-money criminal case of Republican former U.S. President Donald Trump worked for Democratic campaigns involving Vice President Kamala Harris and President Joe Biden.
Context
Judge Juan Merchan's daughter, Loren Merchan, was the director of digital persuasion for Kamala Harris' 2020 presidential campaign. His daughter has also worked, indirectly, for the Biden-Harris 2020 campaign through a communications firm that provides services for progressive campaigns.
On April 4, 2023, former U.S. President Donald Trump was arraigned on 34 felony charges related to the falsification of business records surrounding a hush-money payment made to adult film star Stormy Daniels. The case was assigned to New York County Supreme Court Justice Juan Merchan, in whose presence Trump pleaded not guilty to all charges. 
Following the arraignment, several conservative outlets, two Trump sons, and the former president himself reported or complained that the judge's daughter, Loren Merchan, had campaigned for then-U.S. presidential candidate Kamala Harris and later the Joe Biden-Kamala Harris 2020 presidential/vice president campaign. Several public reports and records confirm that this is true.
Both an archived LinkedIn profile confirmed as valid by Snopes and a 2019 report listing staff members for Harris' 2020 presidential campaign "Kamala Harris for the People" indicate her employment there. The biography, in part, reads:
Director of Digital Persuasion Loren Merchan. 

Vice president (from Jan. 2019) and director of digital advertising (from April 2018) at Authentic Campaigns.  
A June 2022 wedding notice published in Politico's Playbook confirms, based on her employment at Authentic Campaigns, that this same Loren Merchan is the daughter of the New York Justice: 
WEEKEND WEDDING — Loren Merchan, president and partner of Authentic Campaigns, and Taylor Harper, geographer at the U.S. Census, got married on Saturday in Moseley, Va. The ceremony was officiated by the bride's father, New York County Supreme Court Justice Juan Merchan. 
Authentic Campaigns' website lists among its clients the Kamala Harris for the People campaign and the Biden-Harris presidential campaign: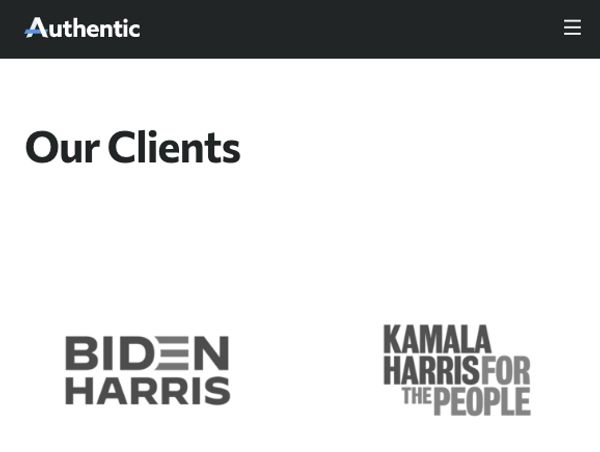 authentic.org/clients
Merchan was assigned the case based on a rotation system responsible for assigning judges to grand jury cases, according to The Associated Press. Judicial experts are not certain the facts above necessitate that the judge recuse himself from the Trump case. Gene Rossi, a lawyer "with nearly three decades of criminal and civil litigation experience at the U.S. Department of Justice," told Newsweek that:
The judge himself will decide whether he needs to recuse himself. [...] He has 'broad discretion' on this issue. The daughter's employment by Democrats is an insufficient basis for recusal.
Stephen Gillers, a judicial ethics expert at New York University, expressed a similar view, telling PolitiFact that "the political views of the judge's children [are not] a basis to recuse."
These debates notwithstanding, it is factual that Juan Merchan, the justice overseeing the case against the former president in New York State, has a daughter who has worked for the Harris and Biden-Harris campaigns. As such, we rate this claim as "True. "