Claim:
An online advertisement displayed in November 2023 said that Cracker Barrel Old Country Store planned to close some or all of its locations.
In late 2023, a large number of online advertisements were displayed to Facebook and Instagram users that each showed a picture of a Cracker Barrel Old Country Store restaurant location. The caption of most of the ads read, "Closing Time: All The Restaurant Chains Closing."
The ads appeared to hint that Cracker Barrel would be closing some or all of its locations, going bankrupt or going out of business for other reasons.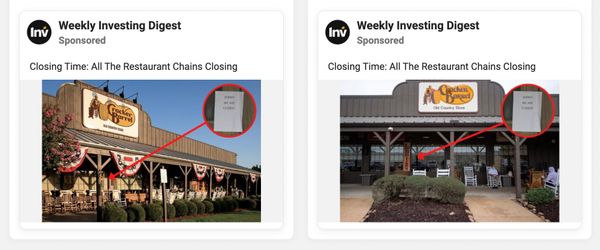 These are just two of the many examples of what the ads looked like.
All of the ads led to an article on the Investing.com website. The headline of the article read, "Last Call: These Chain Stores Are Closing Locations in 2023."
The article listed 216 different businesses, most that appeared to be American brands. Under each business name were several paragraphs describing whether the companies would be closing some or all of its locations. In other words, the article was massive in its length.
Cracker Barrel appeared in the story at number 163. That part of the article read as follows:
163. Cracker Barrel
Year Established: 1969
Store Closures: TBC

Cracker Barrel has been serving customers since its inception in 1969, much to the delight of many Americans across the country. The eatery has over 600 locations, but rumors started circulating in recent years that the chain could be looking at closures.

However, if the last few years have taught us anything, it's to expect the unexpected. Cracker Barrel wouldn't be the first popular chain to close underperforming locations in the current climate. So, while there are no closures currently planned, it might be wise to watch this space.
In other words, the Facebook and Instagram ads were clickbait and the rumor that Cracker Barrel was closing was false, as we noted with our fact-check rating at the top of this story. The clickbait ads led users to the massive article that required a seemingly endless amount of scrolling and reading in order to find anything about whether Cracker Barrel was closing.
The reason why these kinds of ads and articles exist is usually for something called advertising arbitrage. Advertising arbitrage is a strategy in which an advertiser hopes to make more money on ads displayed in a lengthy article than it would cost to display an initial clickbait ad meant to attract users to the article.
We contacted Cracker Barrel to inquire about the possibility of any future restaurant closures. By email, a spokesperson for the company told us, "At this time, we do not have any store closures planned. We remain fully committed to serving our guests and communities in our more than 660 stores across 45 states."