Claim:
Before U.S. Rep. Kevin McCarthy's bid in 2023, it had been a century since it took more than one round of votes to elect a Speaker of the House.
Context
The last multiple-ballot Speaker of the House election took place in December 1923 (specifically, 99 years and one month ago, as of this writing).
On Jan. 3, 2023, U.S. Rep. Kevin McCarthy began his formal bid to be elected Speaker of the House. Five votes later, at the time of this reporting, his victory had yet to be secured, as reported by The New York Times:
Representative Kevin McCarthy, Republican of California, lost a fifth consecutive vote for speaker on Wednesday as the deadlocked House of Representatives slogged through its second day without a leader or sworn members, amid a rebellion by far-right members of the G.O.P. that led to a historic struggle on the House floor.

After three defeats on Tuesday, Mr. McCarthy and his allies were grasping to win over defectors, but his efforts were falling flat, even after former President Donald J. Trump made a direct appeal for Republican lawmakers to vote for Mr. McCarthy, saying he "will do a good job, and maybe even a GREAT JOB."
As described by the Washington Post, "the last time a speaker election took more than one ballot was in 1923, when Speaker Frederick Gillett, R-Mass., was reelected on the ninth ballot."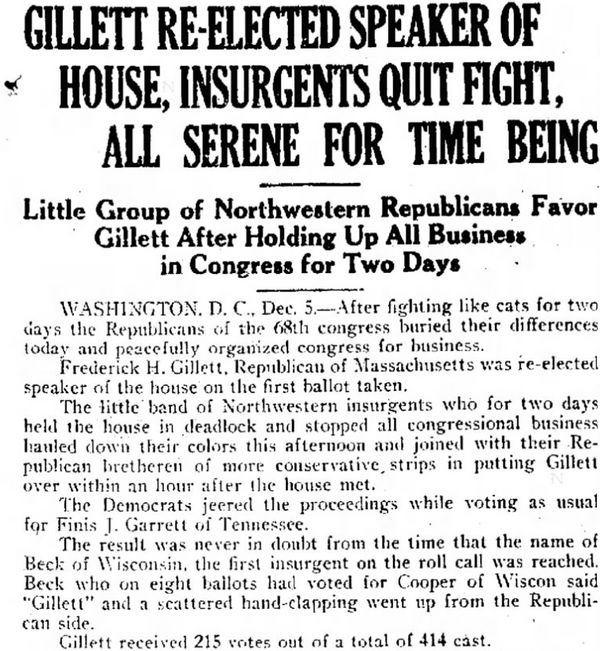 Oxnard Press-Courier Dec. 5, 1923
The longest Speaker election in history ended in 1856 — it took two months and 133 votes to elect a leader that year. "In the House's 234-year history, 14 speaker votes have required multiple ballots. With the rise of the two-party system, only two have come after 1856," according to the Washington Post.
Because the last multiple ballot election for Speaker occurred 100 years before McCarthy's bid, the claim is "True."