Claim:
TV crime series "Breaking Bad" is leaving Netflix streaming in February 2025.
On May 7, 2023, social media users were claiming that the hugely popular crime drama series "Breaking Bad" was leaving the streaming giant Netflix in 2025.
"Breaking Bad leaving Netflix Feb 2025," tweeted one user.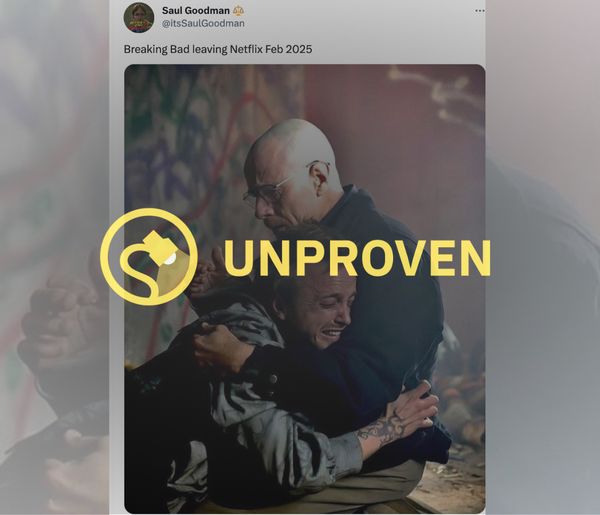 (Image Via @itsSaulGoodman/Twitter)
Similarly, on Facebook, a public user group, Better Call Saul & Breaking Bad, said: "YESSSSS.... WE WILL NO LONGER BE ON NETFLIX."
But the alleged departure of the "Breaking Bad" franchise was not confirmed by either Netflix or Sony Pictures Television Entertainment, which owns the franchise. We have reached out to both companies to ask about the claim and whether they have held any negotiations over the show's continuation on the streaming channel. We will update this report if we get a response. 
It was not immediately clear why this rumor was surfacing almost a year after some entertainment news outlets reported on the possible departure of "Breaking Bad" and other shows from Netflix.
In July 2022, The Wrap and What's On Netflix reported that "Breaking Bad" was among the popular shows that could leave Netflix in 2025. Other outlets carried the same report. Some shows mentioned that could also exit if their licenses weren't extended included "New Girl," "Gilmore Girls," "The Good Place," "Supernatural," and "Shameless." One outlet reported that other popular shows, such as "NCIS" and "How to Get Away With Murder," could even leave the streaming service by the end of 2024 in the absence of a streaming license renewal.
We have also reached out to the social media users who made the claims and asked them to provide the source of their claims.
The news outlets offered one caveat, though — that both Netflix and Sony Pictures Television Entertainment could reach an agreement for the continued streaming of "Breaking Bad." The show originally aired on the AMC cable television network 2008 through 2013. It had five seasons, totaling 62 episodes. The series then began streaming on Netflix in 2015.
Given that the exit of the popular series was not confirmed by the companies, we rate this claim for now as "Unproven."
Snopes once fact-checked another interesting claim about the popular show – that Oscar-winning actor Anthony Hopkins wrote a fan letter to "Breaking Bad" star Bryan Cranston.