Claim:
A photograph genuinely shows singers, Bono, Paul McCartney, and Freddy Mercury performing together at the Live Aid benefit concert in 1985.
A viral vintage photograph depicts rock stars Paul McCartney, Bono, and Freddie Mercury singing together while surrounded by other famous performers. 
The picture is real and came from the 1985 Live Aid concert, which was to benefit famine relief in Ethiopia, and was held concurrently in Wembley Stadium in London and in JFK Stadium in Philadelphia. Organized by Boomtown Rats' singer Bob Geldof and Ultravox singer Midge Ure, it was intended to be a fundraiser that raised millions of dollars. The concert brought together an array of famous entertainers and was viewed by an estimated 1 billion people in more than 100 nations. 
A YouTube video shows the trio performing "Do They Know It's Christmas?" a song written by Geldof and Ure. At the 2:42 mark, Mercury and Bono can be seen singing into the same mic.
Missing from the above photograph are George Michael, David Bowie, and a number of other artists who are visible in other shots taken at the event. In other Getty Images photographs of all of the various performers can be seen on stage. The following shows McCartney, Bono, and Mercury side by side. In the second photograph, Mercury is obscured by McCartney, but his red shirt is still visible.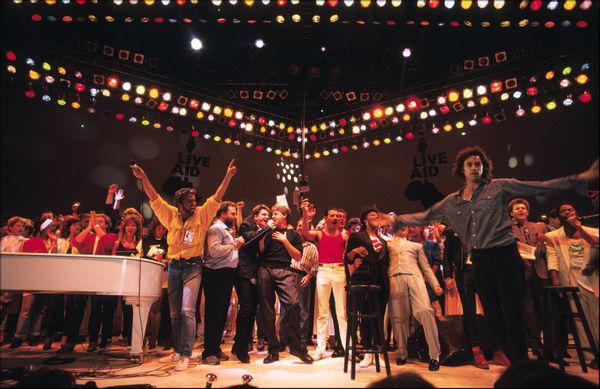 (Georges De Keerle/Getty Images)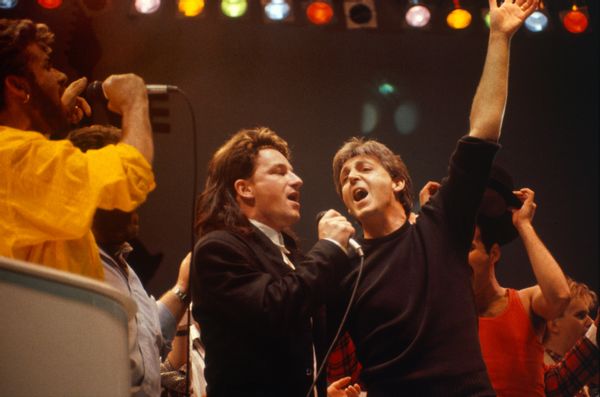 (Solomon N'Jie/Getty Images)
We rate this claim as a "Correct Attribution."