Claim:
RNC Chair Ronna McDaniel said that a possible U.S. debt default "bodes very well for the Republican field in 2024."
Context
McDaniel's statement, in context, was that President Joe Biden's purportedly unfavorable job approval poll numbers bode well for the Republican field.
On May 25, 2023, a tweet from U.S. President Biden's personal Twitter account paraphrased statements by Republican National Committee (RNC) Chair Ronna McDaniel as a suggestion that a "possible U.S. default 'bodes very well' for the Republican Field' in 2024."
Defaulting on the debt—including trillions incurred under Donald Trump—could mean seniors missing Social Security checks and millions of jobs lost.

It sounds like the head of the Republican Party thinks that's a price worth paying to elect Republicans. pic.twitter.com/fHbRqviI9j

— Joe Biden (@JoeBiden) May 25, 2023
This is a misleading characterization of statements McDaniel made during an interview with Fox News' Martha MacCallum. During that interview, which primarily concerned the growing 2024 GOP presidential field, MacCallum asked McDaniel to respond to a poll showing a strong preference for former President Donald Trump among Republicans: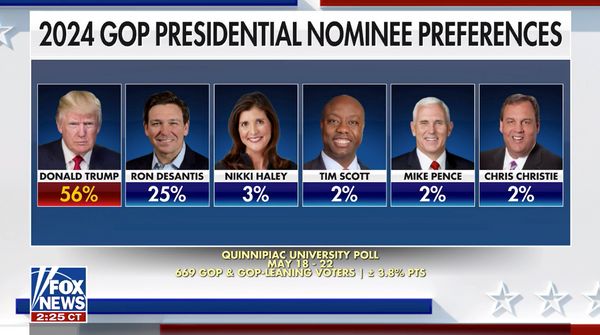 In a pivot characteristic of the neutrality most party chairs publicly hold prior to the selection of a nominee, McDaniel suggested the more important numbers were "Biden's numbers" and that "his low approval" was not that of a president "that the American people feel is doing a good job on their behalf."
At the time of her statements, Biden's public approval rating was hovering around 40 percent — near the lowest of his presidency, according to Reuters. Around 60% of Americans, at this same time, believed the country was on the wrong track, according to an average of polls compiled by RealClearPolitics. These numbers were virtually identical to Trump's at this point in his presidency. 
After the pivot to Biden's numbers, McDaniel listed several possible explanations for Biden's polling — one of which was a failure to reach, at the time of this reporting, a compromise to raise the U.S. government's spending limit. Her closing statement was a callback to the original question and the pivot-answer she provided, as is clear in full context (emphasis ours):
MacCallum:

Ronna, what would you say to voters as they look at the numbers on the screen right now? 

McDaniel:

You know, I think it is early. I think we've gotta look at Biden's numbers and that's where I think Republicans should be paying attention — his low approval.  This is not a president that the American people feel is doing a good job on their behalf. The vast majority of Americans feel like we're not heading in the right track. 

And then you look at this debt, debt ceiling crisis, you look at us about to default and you see that the president took 90 days out from negotiating. He refused to come to the table with Republicans. Republicans have put a plan on the table, and this is an MIA president when it comes to problems that the American people are facing.

Whether it's energy independence, whether it's fentanyl, whether it's a broken border, whether it's crime surging in our streets, this is a president that is failing the American people. So I think that bodes very well for the Republican field. 
The "that" in the final sentence above refers to the numbers McDaniel interprets as indicating that "vast majority of Americans feel like we're not heading in the right track," not a direct suggestion that a default on the debt would benefit Republicans. 
The interview came amid ongoing negotiations to raise the U.S. debt limit. On May 1, 2023, Treasury Secretary Janet Yelin suggested that the U.S might be unable to meet its payment obligations "as early as June 1" unless a resolution to raise this congressionally mandated spending limit was passed. 
House Republicans had already passed a bill that would, as NBC News reported, raise the debt limit but "slash spending and roll back key pieces of President Joe Biden's agenda." Biden opposed this legislation, describing it as "a reckless attempt to extract extreme concessions as a condition for the United States simply paying the bills it has already incurred."
Because McDaniel's statement was about "Biden's numbers" — i.e., job approval polling data — and not a default on the national debt, we rate the president's assertion on Twitter about McDaniel as "False."