Claim:
U.S. President Joe Biden is considering placing voting restrictions on Twitter Blue subscribers ahead of the 2024 presidential elections.
On April 30, 2023, Twitter user @merrittk posted a screenshot of what appeared to be a CNN article claiming, "[U.S. President Joe Biden] considers voting restrictions on Twitter Blue users in upcoming election." 
This purported CNN article does not exist. We searched for evidence of it on CNN, and found that it was an edited screenshot of an actual CNN article with a different headline. The bylines, publishing date, and publishing time are identical: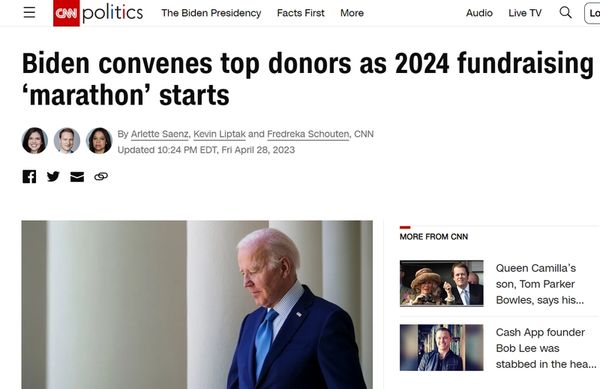 Real CNN article (CNN)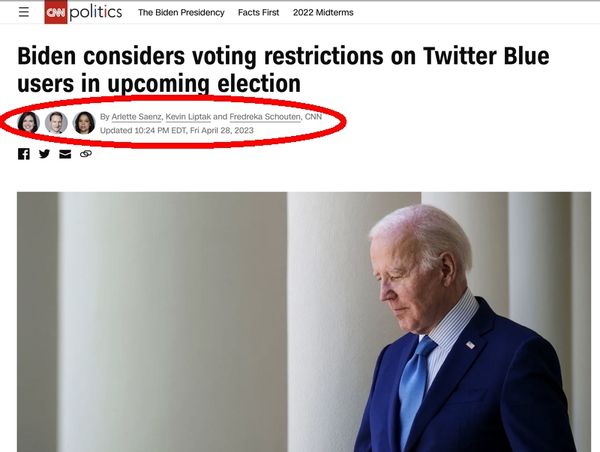 (@merrittk/Twitter)
The fake screenshot may have been posted as a joke, possibly inspired by Twitter CEO Elon Musk's statement in March 2023 that only verified accounts would be able to vote in polls on the social media platform.
Shortly after Musk's announcement, on March 31, the White House stated that its official accounts would not be paying for Twitter Blue subscriptions.
"It is our understanding that Twitter Blue does not provide person-level verification as a service. Thus, a blue check mark will now simply serve as a verification that the account is a paid user," White House director of digital strategy Rob Flaherty said in an email to staffers.
However, official organizations like the White House and some government officials still retained grey check marks as a form of verification, though it is not clear which officials will retain and which ones will lose those checkmarks. Staff can opt to purchase Twitter Blue for personal accounts, according to Flaherty's email.
Twitter Blue is an opt-in paid subscription that gives any user who pays $8 per month a blue check mark on Twitter. Previously, the check mark was free and granted to those who went through an identity verification process, particularly journalists, famous people, and companies. 
Given that no such article exists, not is there is any evidence Biden is considering such a policy (which contradicts the basis of U.S. democracy, in any case), we rate this claim as "False."