Claim:
In March 2023, President Joe Biden was seen exiting Air Force One with a little boy dressed up as a girl.
On March 15, 2023, claims spread on Twitter that President Joe Biden had traveled with a "little boy" on Air Force One. The claims were false. 
"WATCH! This just makes me so pissed off! ???? Biden coming down the airplane stairs with a boy dressed in a girls romper! This is way too much!" said a much-shared Twitter post. It had accumulated more than a million views by the time it was deleted. Other users tweeted in response that it was his granddaughter.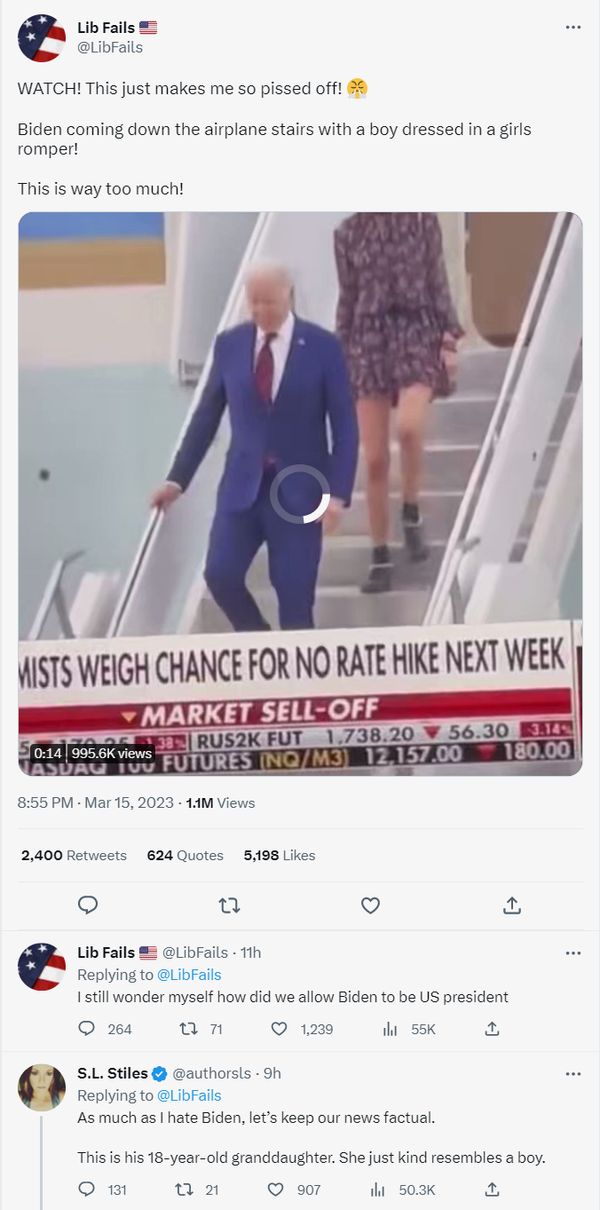 (Twitter)
The person in the photograph is indeed Natalie Biden, the president's granddaughter. Born in 2004, she is an adult woman who turned 18 last year. Local publications like the Nevada Independent and Las Vegas Sun identified her as traveling with Biden on a trip to Las Vegas to participate in an event on prescription drugs.
Natalie Biden has been photographed with Biden before. In 2022, she was seen with her grandfather when they toured the University of Pennsylvania. She was also photographed on the campaign trail when he ran for president in 2020. You can clearly see it is the same woman in the photos.
 
"Natalie is on spring break," said White House Press Secretary Karine-Jean Pierre during a press gaggle on March 13. "So, she joined her Pop on this trip."
False claims related to Natalie Biden have been fact-checked before. The Associated Press found that a video of Biden placing a voting sticker on her for the first time had been distorted to try to create the impression he is a pedophile. There is no evidence that supports the claim.
Cisgender women accused of being men or boys is also something that has occurred before. In November 2022, a woman was accused of being a transgender boy while using the bathroom in Las Vegas.