Claim:
U.S. Rep. Alexandria Ocasio-Cortez tweeted that "Farming should be illegal."
In late May 2023, a number of Twitter accounts retweeted and criticized a post supposedly written on May 28 by U.S. Rep. Alexandria Ocasio-Cortez (AOC), about farmers: 

(@Shamrock168339/Twitter)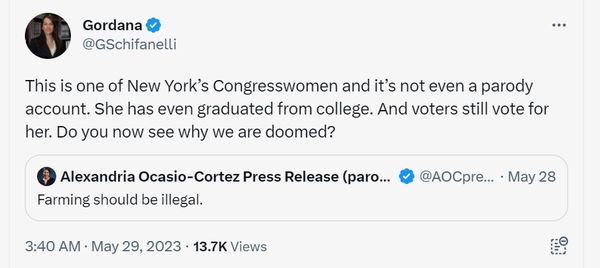 (@GSchifanelli/Twitter) 
Contrary to what most of these users apparently assumed, however, the "Farming should be illegal" tweet attributed to AOC was actually posted by a parody account: 

(@AOCpress/Twitter) 
It was a joke. AOC did not tweet that "Farming should be illegal." No such tweet or sentiment appeared on her official Twitter account. Twitter users were similarly fooled by a previous tweet from the parody account, also fact-checked by Snopes, in which Ocasio-Cortez supposedly said "Printing money is the only way out of inflation." 
In a May 30 tweet from her official account, Ocasio-Cortez informed the public that the parody account was "impersonating" her and "releasing false policy statements," and noted that Twitter owner Elon Musk "has engaged it, boosting its visibility": 
FYI there's a fake account on here impersonating me and going viral. The Twitter CEO has engaged it, boosting visibility.

It is releasing false policy statements and gaining spread.

I am assessing with my team how to move forward. In the meantime, be careful of what you see.

— Alexandria Ocasio-Cortez (@AOC) May 30, 2023
This is the @AOCpress tweet that Musk engaged with: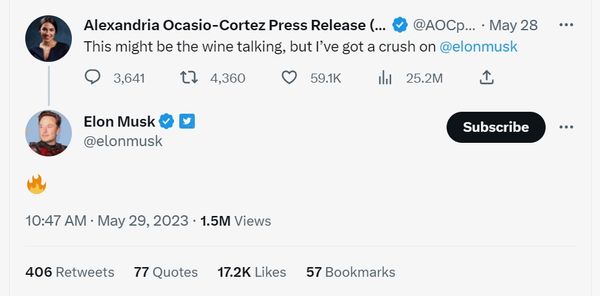 (@elonmusk/Twitter)
Snopes has also fact-checked fake tweets attributed to AOC that were created image-editing software. In one such fake tweet that circulated during the COVID-19 pandemic, she allegedly urged that businesses be kept closed until after the 2020 election. In another, she allegedly called for Democrats to commence with "The Purge" (a reference to the 2013 horror film) after U.S. President Joe Biden was elected.
For background, here is why we sometimes write about satire/humor.