Claim:
A photograph accurately shows Andrew Tate handcuffed in a police van after his December 2022 arrest in Romania.
Online personality and former kickboxer Andrew Tate, who is known for his misogynistic comments on social media, was arrested in late December 2022 in Romania in connection with a human trafficking investigation. We received a number of queries in connection with the story, including whether Tate and his brother Tristan — who was arrested at the same time — had been released from detainment after 24 hours. 
We also found the photograph below circulating on social media in the aftermath of the arrest: 
The photograph appears to show Tate himself in handcuffs in a police van, and a copy of it can be found in the Daily Mail tabloid. In a wider shot, Tate can be seen sitting alongside two women the Daily Mail identified as Luana Radu and Georgiana Naghel, both of whom were accused of luring other women to Tate's compound. The Daily Mail said the original video of Tate in the police van came from Romanian online news agency Gandul. 
Indeed, a video with Gandul's watermark shows the same shot of Tate in the corner of a police van while handcuffed. Cancan, another Romanian tabloid news outlet, published a similar photograph of Tate in the van, with their website watermark over it — the same watermark visible on the Reddit post.  
The footage showed Romanian police raiding Tate's home and arresting him along with his brother. In the footage, Tate was wearing a jacket over a black hoodie which appears to be the same hoodie in the above photographs. 
Gandul also has a video of Tate taken from outside the police van. The screenshots below indicate that the above Reddit photograph is probably from the same trip in the van, albeit from a different angle. Tate can be seen leaning against the van walls in the same way, against what appears to be a seat back or chair propped up against the wall. 

(Gandul)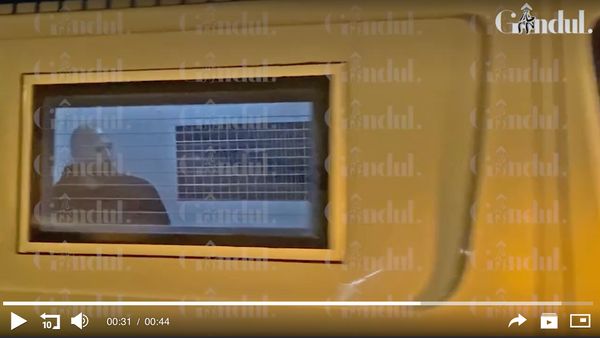 (Gandul)
Given that this photograph emerged from Romanian news media, and corresponds with video of Tate being transported in a police vehicle, we rate this claim as "True."