Claim:
Actual ads and recipes from the 1940s and 1950s recommend mixing 7-Up and milk for a special taste treat.
For some years, a "vintage ad" has circulated online that recommends mixing the soft drink 7-Up with milk to make "a delicious food drink" that supposedly pleases children and adults equally: 
Given that it can be difficult to tell the difference between real vintage ads and the many parodies of such ads that also make the social media rounds, some people have questioned whether the above example is authentic. It is.
Though the example above wasn't an advertisement, strictly speaking, it is a real page from a real promotional pamphlet published by the Seven-Up Company in 1948 entitled "9 Ways To Spark Family Favorites." The pamphlet also recommended basting ham with 7-Up, making fruit sherbet with 7-Up, and mixing 7-Up into gelatin desserts for an "unusual sparkle." 
When we searched newspaper archives for mentions of this odd 7-Up concoction, the earliest we came across was a short filler piece in the Oct. 4, 1945, edition of the Harrisburg, Pennsylvania, Evening News. The piece, basically a promo for a local soft drink bottler, the Stoner Beverage Company, used language similar to that found in the pamphlet to recommend what it called a "Seven-Up milk cocktail": 
"For children who won't drink milk and adults who want the nourishment of milk with a decided flavor appeal, try a Seven-Up milk cocktail. Mix chilled Seven-Up and cold milk in equal parts, by pouring the Seven-Up gently into the milk. Do not stir. The Seven-Up adds a light and delicate flavor making a delicious blended food drink."
In 1948, the same year "9 Ways To Spark Family Favorites" was published, copy quoted directly from the pamphlet began appearing in ads for 7-Up bottling companies in various parts of the U.S. This ad appeared in The Daily Times of Salisbury, Maryland, on July 15, 1948: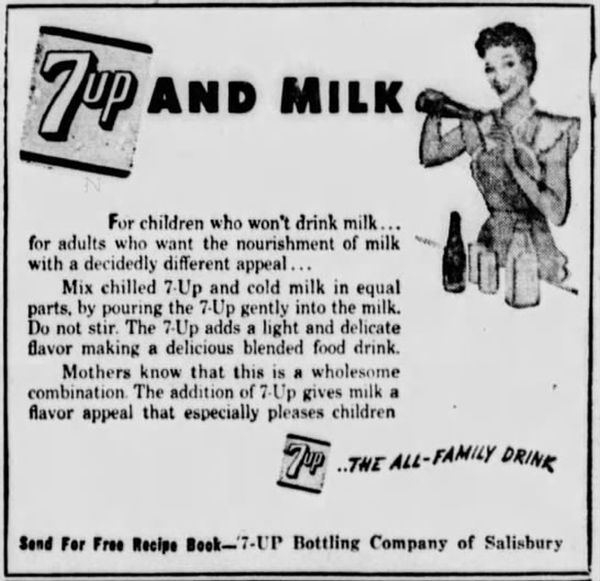 1948 ad for 7-Up Bottling Company of Salisbury
Despite the advertising, the mixture doesn't appear to have caught on, at least not in a lasting way. We found scattered, rare instances of similar ads appearing through the 1950s, but almost none in the decades since. 
That said, you can't keep a weird idea down. Check out this CNN story about PepsiCo's December 2022 effort to promote a beverage made with Pepsi and milk — "pilk" — for the winter holidays: