Claim:
A 2013 post in the subreddit r/Manhattan warning people to "stay away from the Michael Jackson impersonator" specifically concerns Jordan Neely, who died on the F Train in May 2023 after a fellow rider put him in a chokehold.
On May 2, 2023, a former U.S. Marine put a reportedly "disturbed man," later identified as 30-year-old Jordan Neely, in a chokehold on a New York City subway. The altercation ended in Neely's death.
For years, several reports described Neely as a locally known Micheal Jackson impersonator who regularly performed in the New York City subway system. According to family members, friends, and fellow Jackson impersonators, his mental health, as well as his act, deteriorated over time, and by 2013 he was often yelling at commuters. 
Neely, a New York Police spokesperson said, had 42 prior arrests between 2013 and 2021. According to a post in Reddit, 2013 seems to have been when New York regulars noticed a change in the performer's behavior. His actions, according to several commentators sharing the old post, warranted at least one Reddit thread in 2013:
The Reddit post (which has not been deleted), does not mention Neely by name, but it is clear based on the photographs shared that Neely is the Micheal Jackson impersonator the Reddit post refers to: 
Try to stay away from the Michael Jackson impersonator if you see him...

Used to be all cool, dancing to MJ in the subway train, but as of late he's become a maniac.

Sometime in late Spring/early Summer I saw him in the train, his radio fucked up and he was angry as fuck, cursing and bad mouthing commuters screaming "What the fuck are you looking at? Dont fucking look at me!" Totally didn't expect him to act as such.

Ever since that day he's just been a scary dude to me. He doesn't dress up anymore. No more dancing...just asks for money. Occasionally shouting obscenities.
The Redditor posted links to three photographs identifying the impersonator in question. Snopes was able to recover only one one of those three. That image originates from an April 10, 2012, post on the Wordpress blog Windy Citizen Sports titled "Michael Jackson impersonator murdering the dance floor…on the subway." That post includes a link to an April 10, 2012, YouTube video by late "Howard Stern Show" personality Joey Boots.
While this video does not identify the dancer either, comments predating the notoriety caused by his death identify the performer as Neely: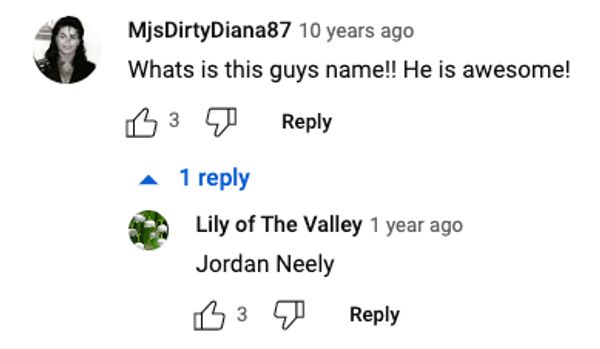 Further, a video also uploaded to YouTube from that same day, April 10, 2012, shows the same performer in the same outfit performing the same routine for a different crowd. This video identified Neely in the title, a description that is also echoed by comments attesting to the fact that the performer is Neely. 
According to a reply in the comment, the altercation that spooked the Redditor happened on the A Train, a place the Redditor had regularly seen the performer in the past. This is consistent with details described in a profile of Neely written after his death:
Lance Clarke, an attorney, first saw Neely perform as Jackson at a family member's birthday party ten years ago. Neely "was the guy," he told me over the phone. "The kids thought he really was Michael." Over the years, Clarke said he frequently saw Neely performing on the A train, but he appeared to be going through progressively harder times. 

"First he was performing with the costume, then the costume got tattered," he said. "Then no costume. Then he couldn't do the moves, the kicks. Then no performing at all." A few years ago, Clarke brought Neely home with him and gave him some food and a few bags of clothes. "He put his soul into performing and after a few years on the street, he had no soul left," Clarke says. "He was just begging for help."
According to relatives, Neely was profoundly affected by the murder of his mother, and suffered increasingly from untreated mental illness and homelessness. 
Because the person dancing in pictures shared in the 2013 Reddit thread stem from videos in which Neely was identified, and because the circumstances described in that video are consistent with what is publicly known about Neely's life, we rate the claim as "True."